Published: Aug 27, 2023 by Isaac Johnson
First, I really thought I could be pro-active and clever and write a lot of content up front and keep things automated. It started okay, but then after a couple manual merges threw things off, I didn't get the posts out last week like I desired.
The bulk of August, after the first week, I've been traveling.
I did 2 different BWCA (Boundary Waters Canoe Area) trips then a work conference in Kansas.
BWCA 1
The first BWCA Trip was four days that took us up from Mudro EP through Sandpit, Tin Can Mike and into Horse lake.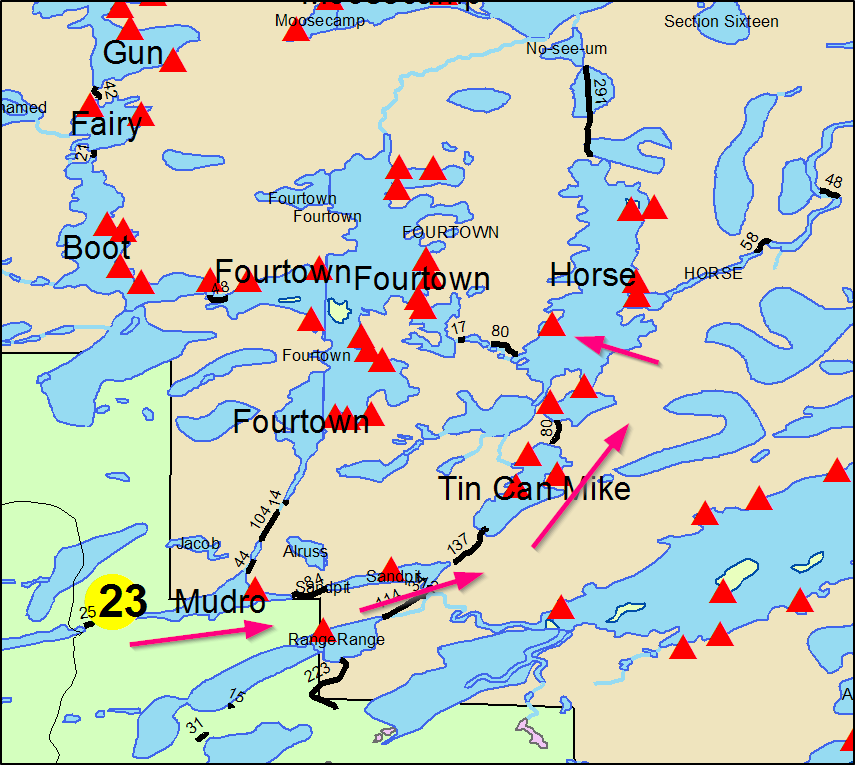 As we went in the first day, the outfitter had informed us "Beware there is a storm blowin in at 3" and we sort of heard but didn't pay much mind. We hit the Entry Point around 1:45 or so and paddled our way out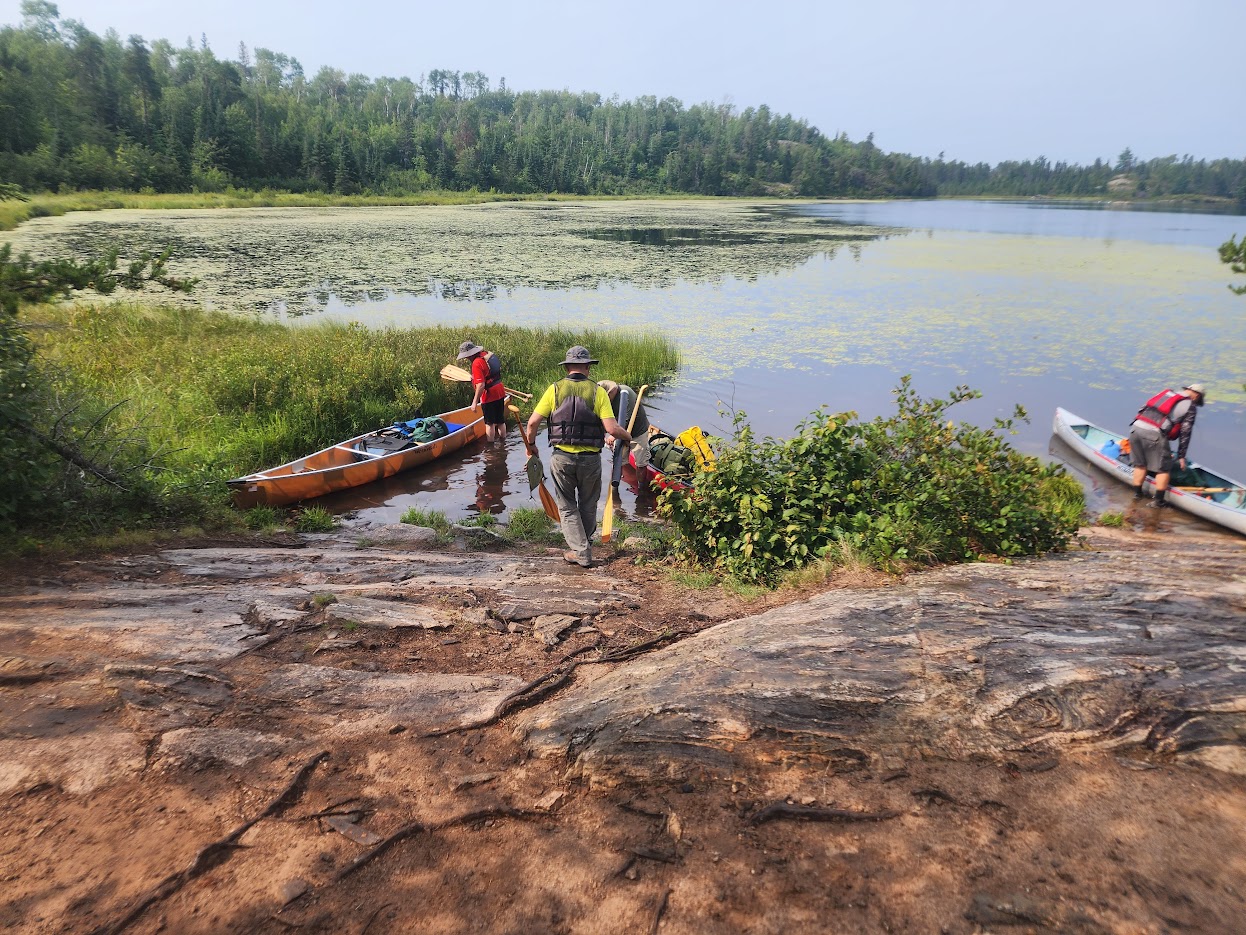 As we crossed Tin Can Mike it started to sprinkle. That we could handle. In fact, as I portaged my older Alumicraft canoe, it acted as a nice (albeit heavy) umbrella.
We entered into horse at the base and paddled north, our destination being sites on the north/northeast side of the lake. It turned from sprinkles to rain, rain to hard freezing cold rain. We were getting hosed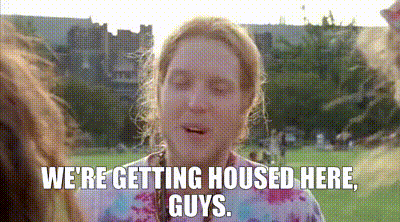 That's when the lightning started. And right next to us. We pulled the canoes up and tried to determine if this was the landing. We weren't on a campsite, just Horse Lake Beach. That's when the massive side winds and hail set in.
We were getting slammed with lightening, straight-line winds and marble sized hail. I ducked behind a tree and let the pack i was carrying roll. Other guys closer to the water used fishing boxes or life jackets to shield their faces. It was short, but intense.
Soon it all passed. And we were left utterly soaked and laughing. That was the craziest entrance ever. While standing there, I took a photo of the rest of the crew, freezing soaked, but happy to be through it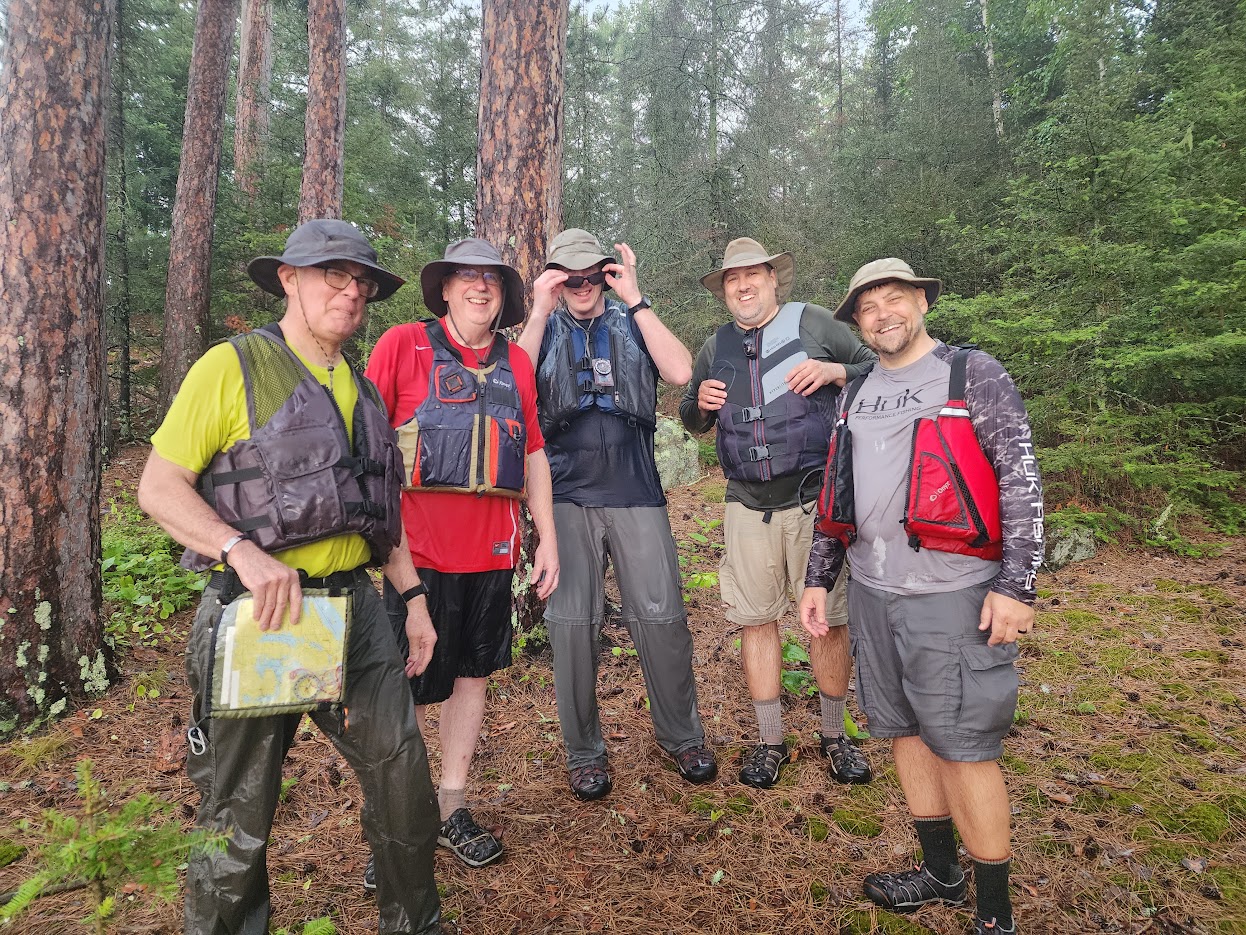 Our site
We ended up on this large rock face site.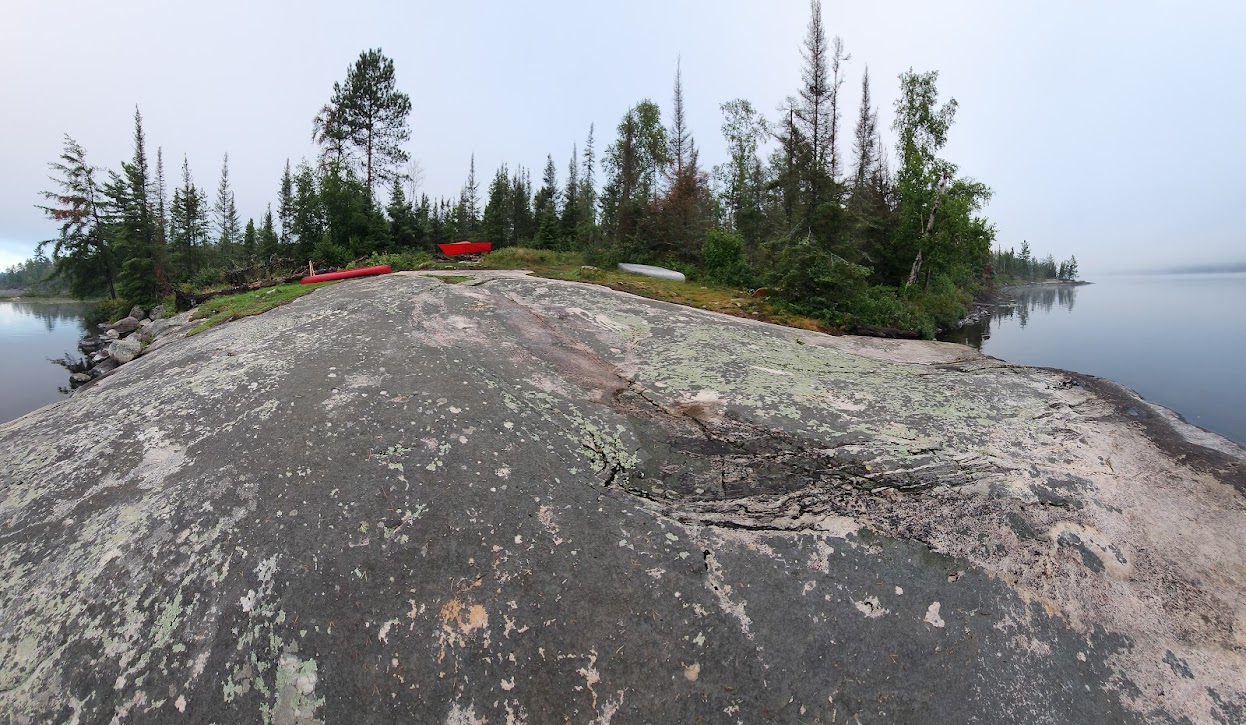 While lures failed, I caught a lot of bass on grasshoppers there on the hill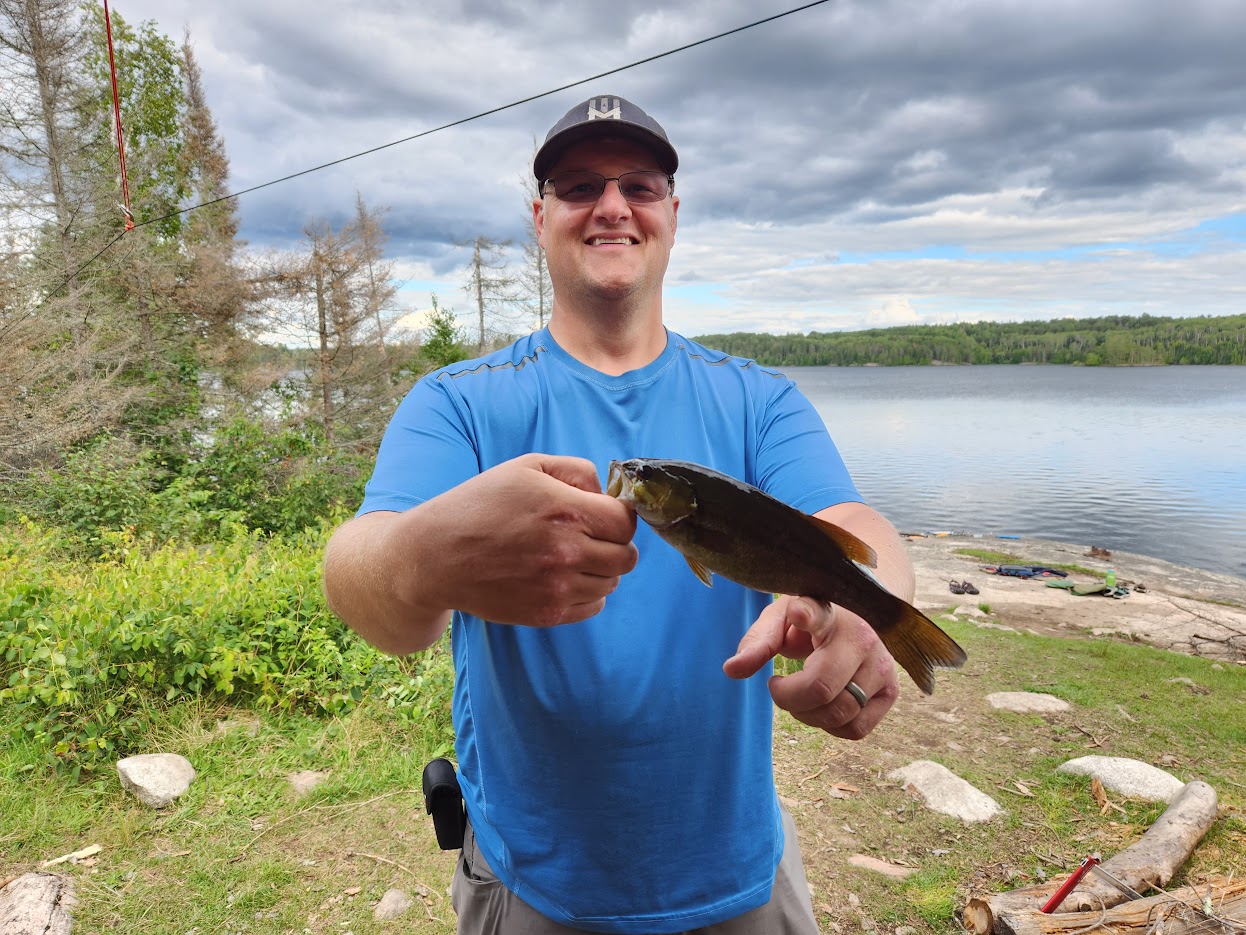 If you know about the Boundary Waters, it won't surprise you, but for the rest - nothing is flat. You make your space. We setup tarps for the showers and this was our hangout/kitchen area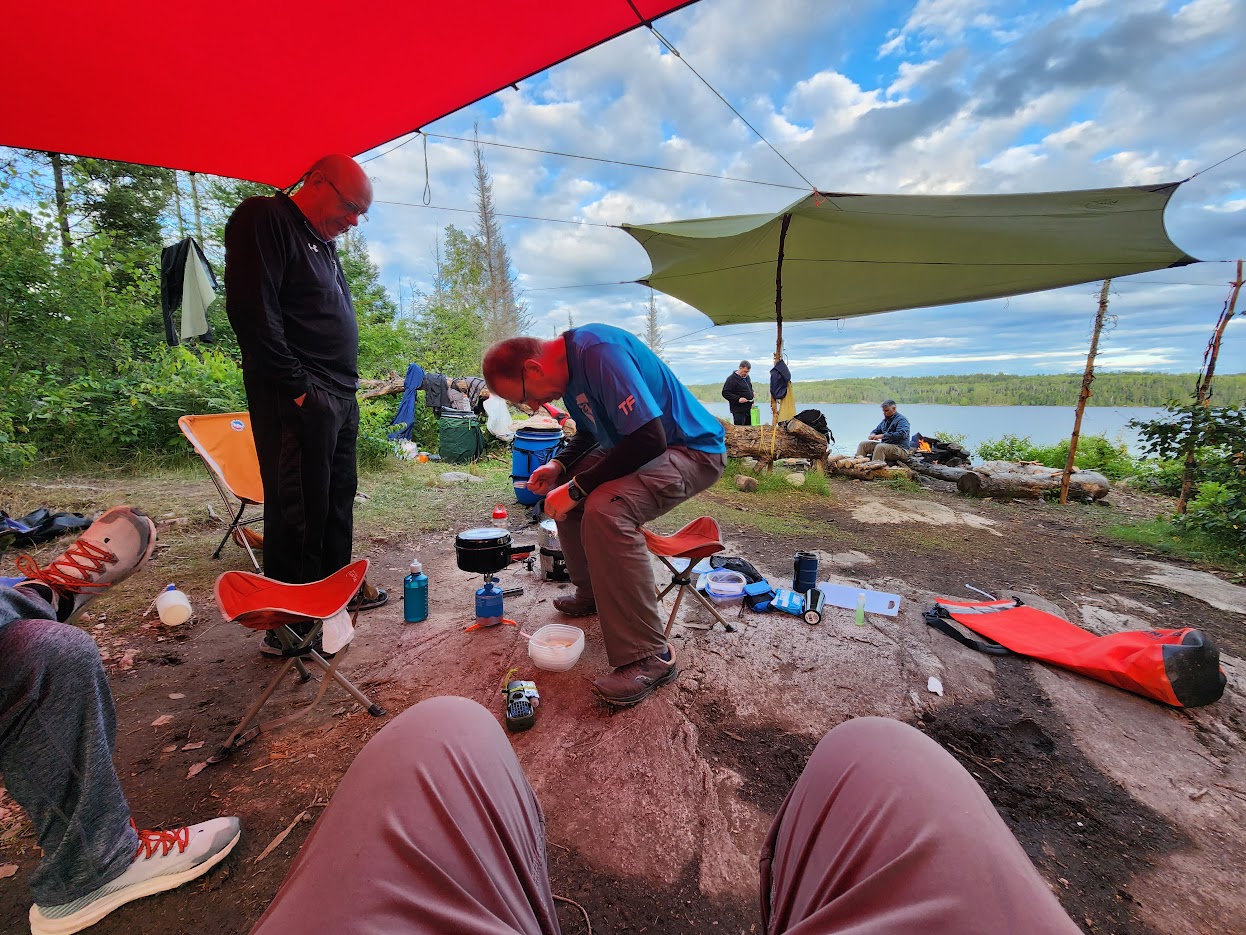 Since there are bears, we hung our bear barrel up in the tree. This was a nice rig setup by Nate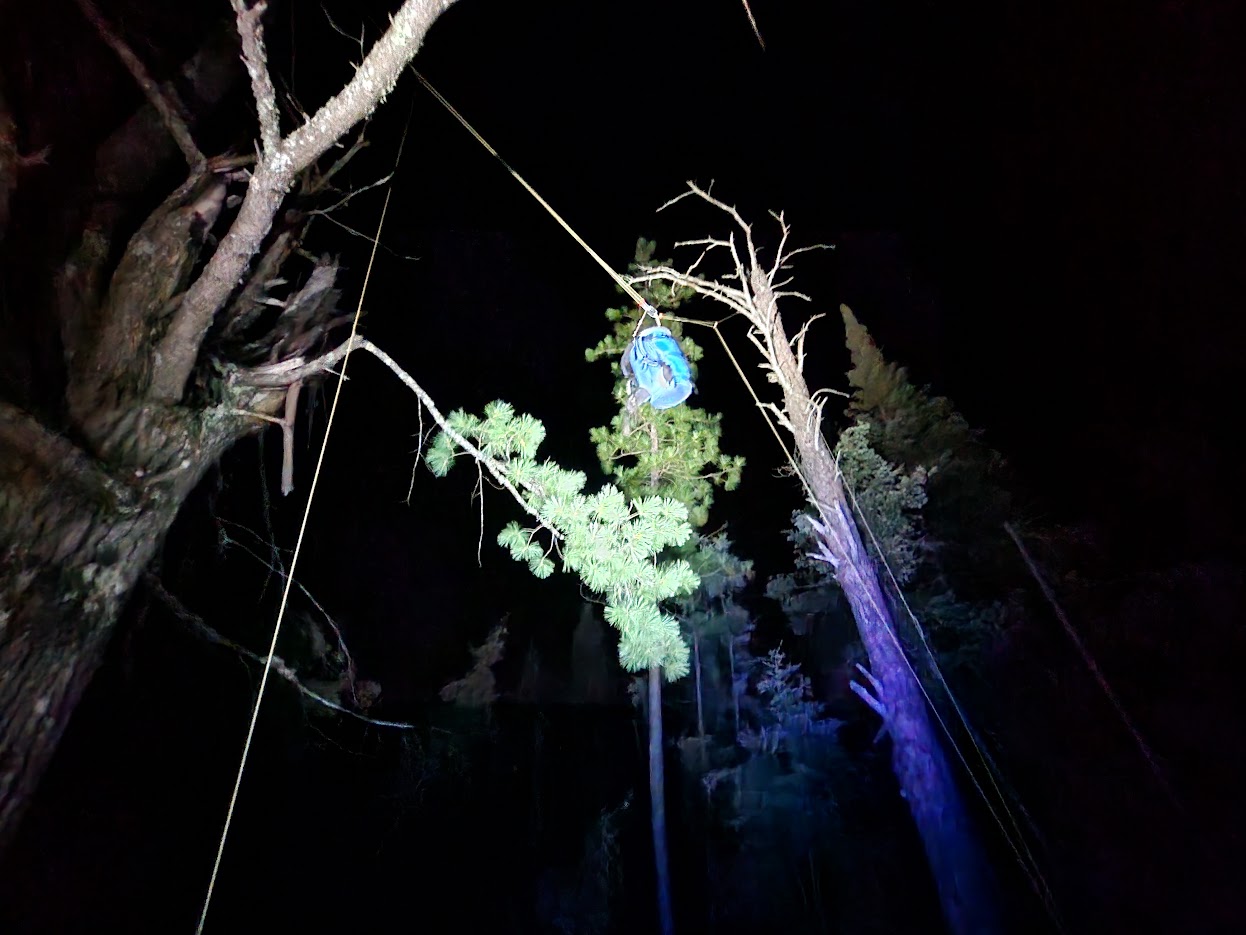 This was shot by Nate at some point; but it does rather capture what I did there often - just sit and appreciate nature.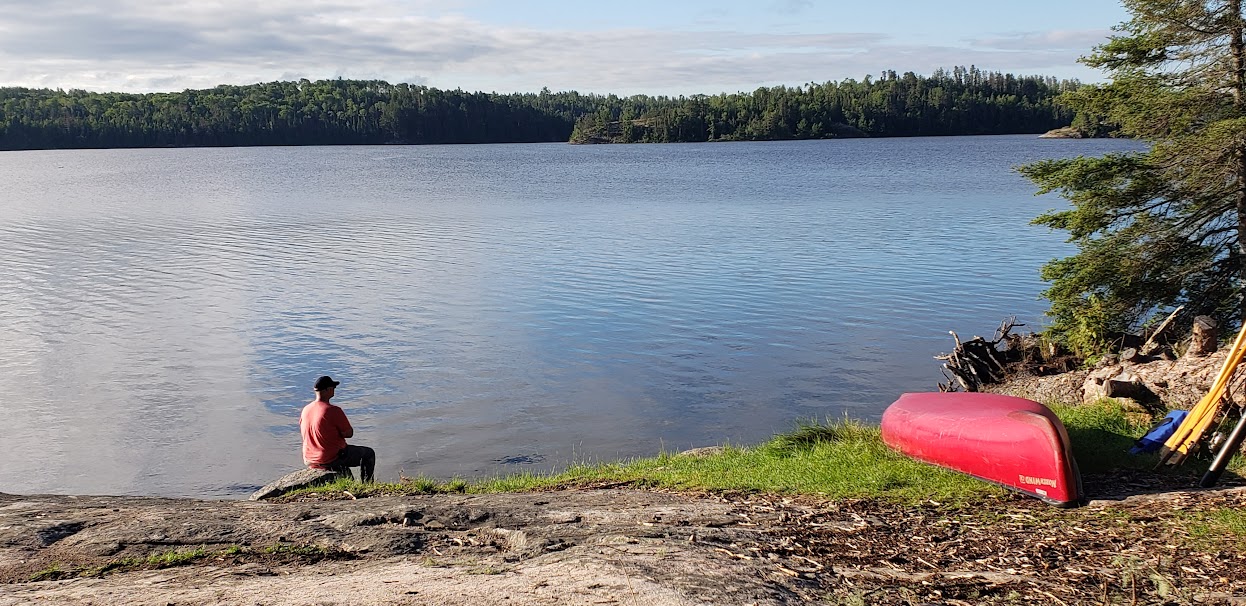 Some of the crew explored Horse River to the falls, Mike and I did some bushwacking and explored trails around Horse Lake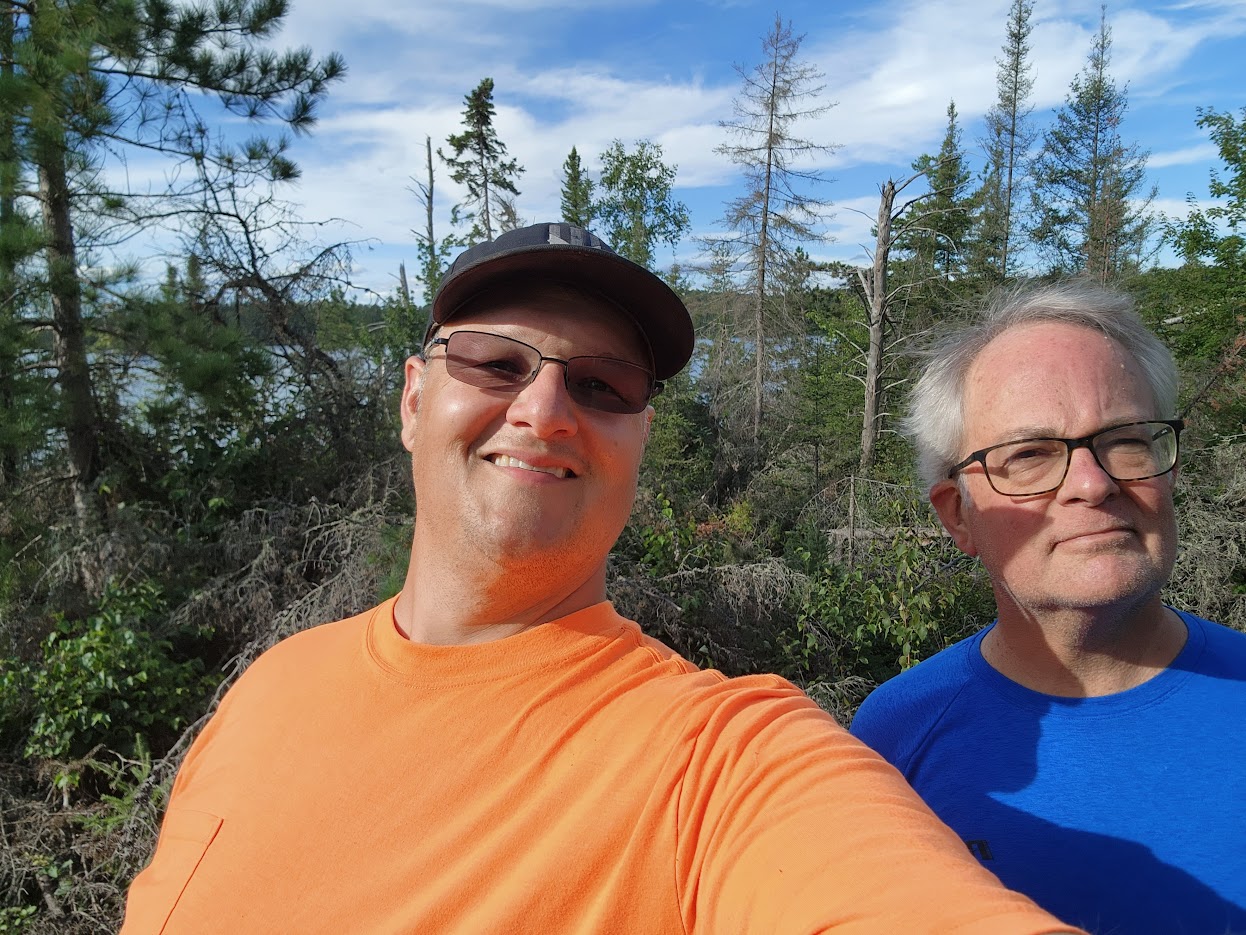 Experiments were made with Swedish Fire Torches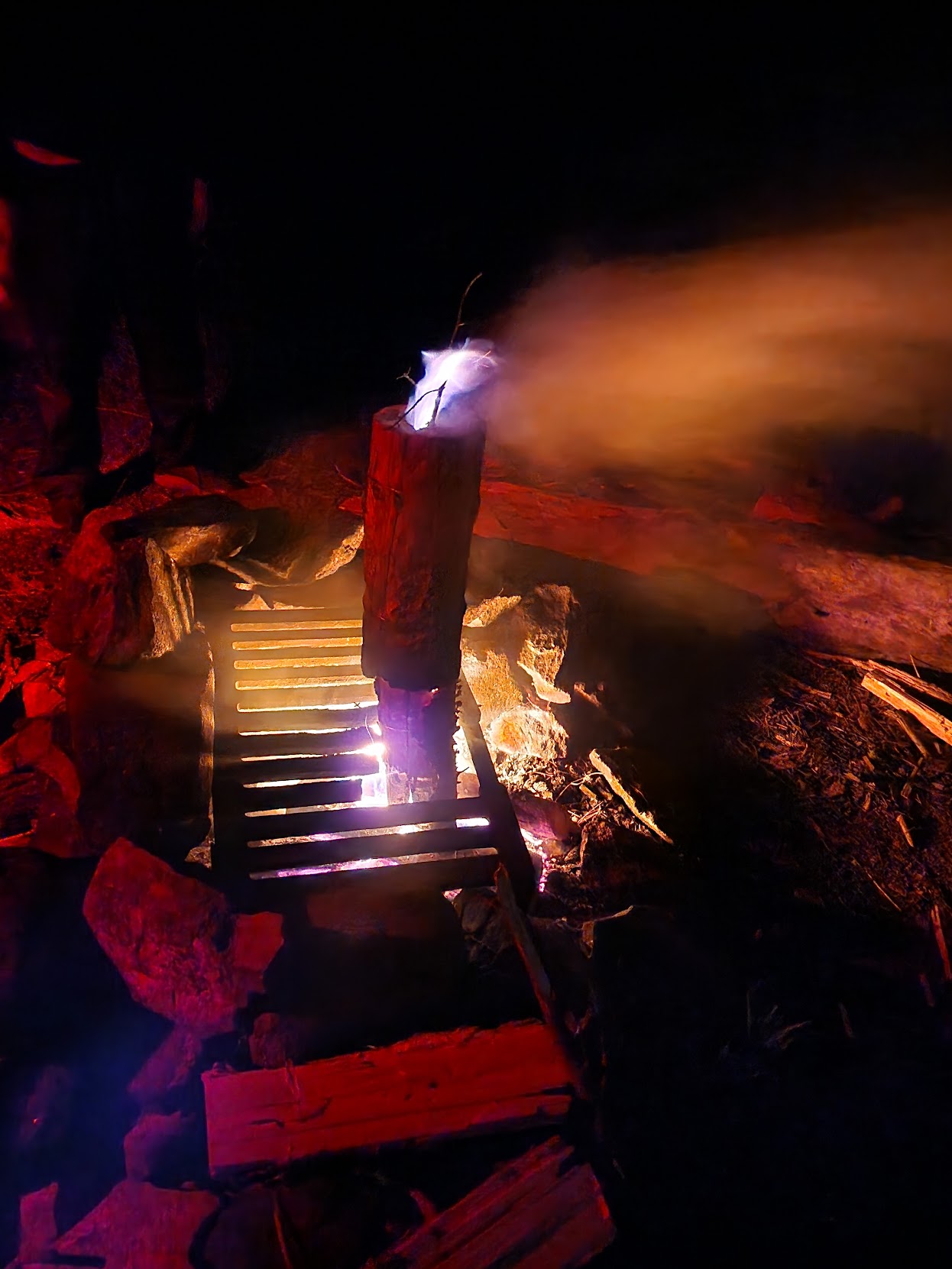 We found massive piles of Blueberry bushes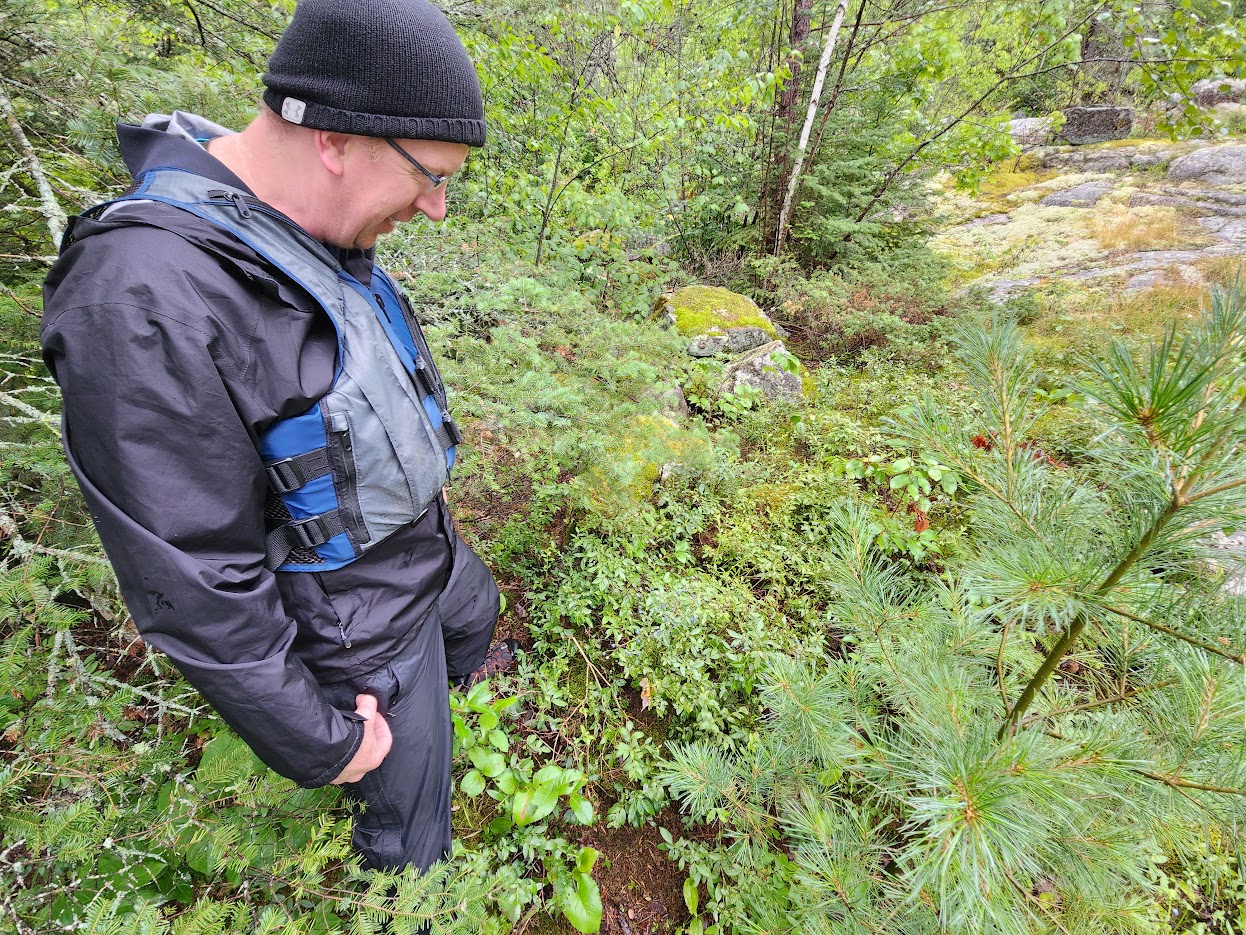 We ate a lot, but some did come back to camp with us and were used for killer blueberry pancakes the next day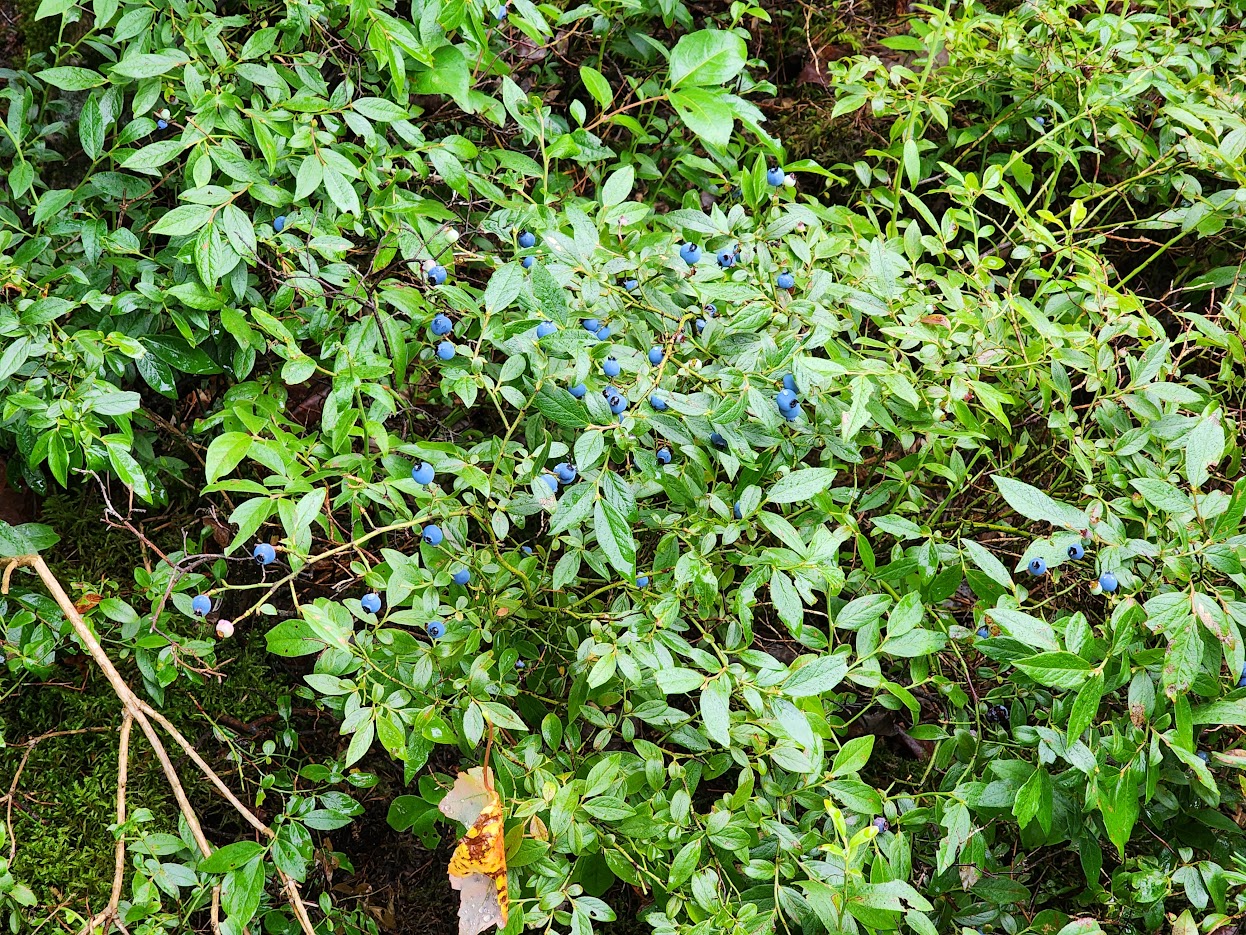 Russ and I did a paddle and found this interesting rock wedge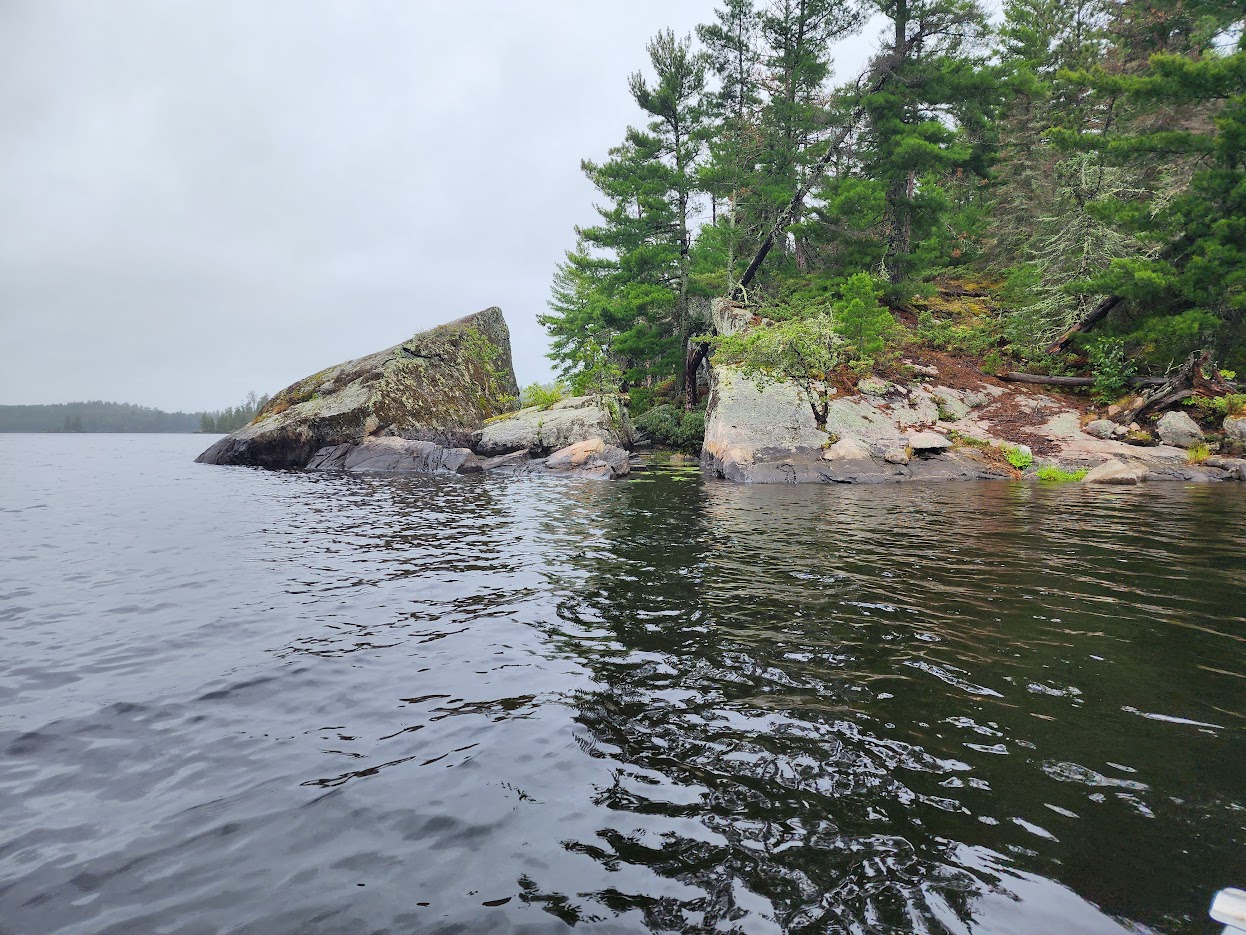 Just narrow enough to paddle in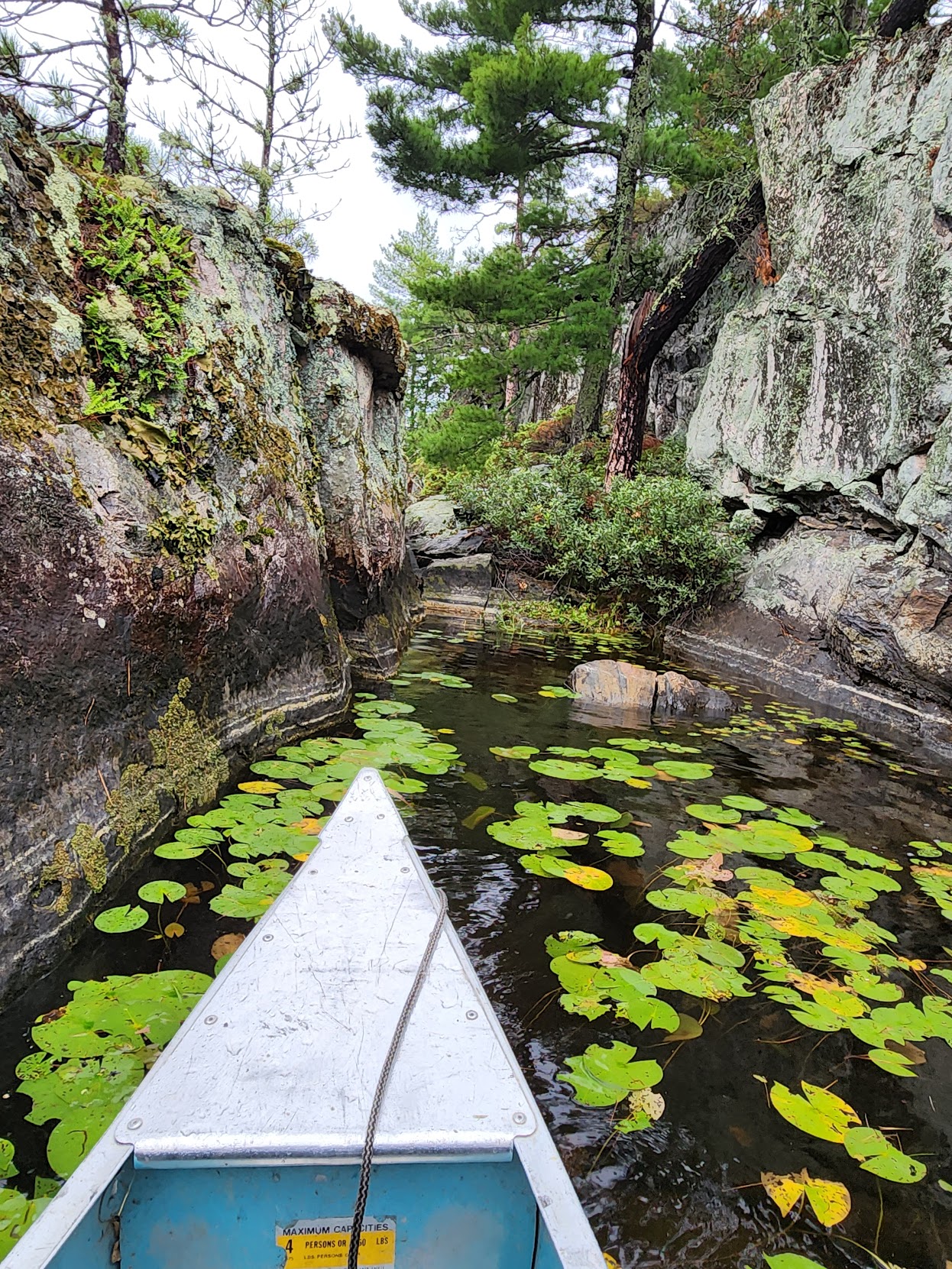 and appreciate the mellinia its been here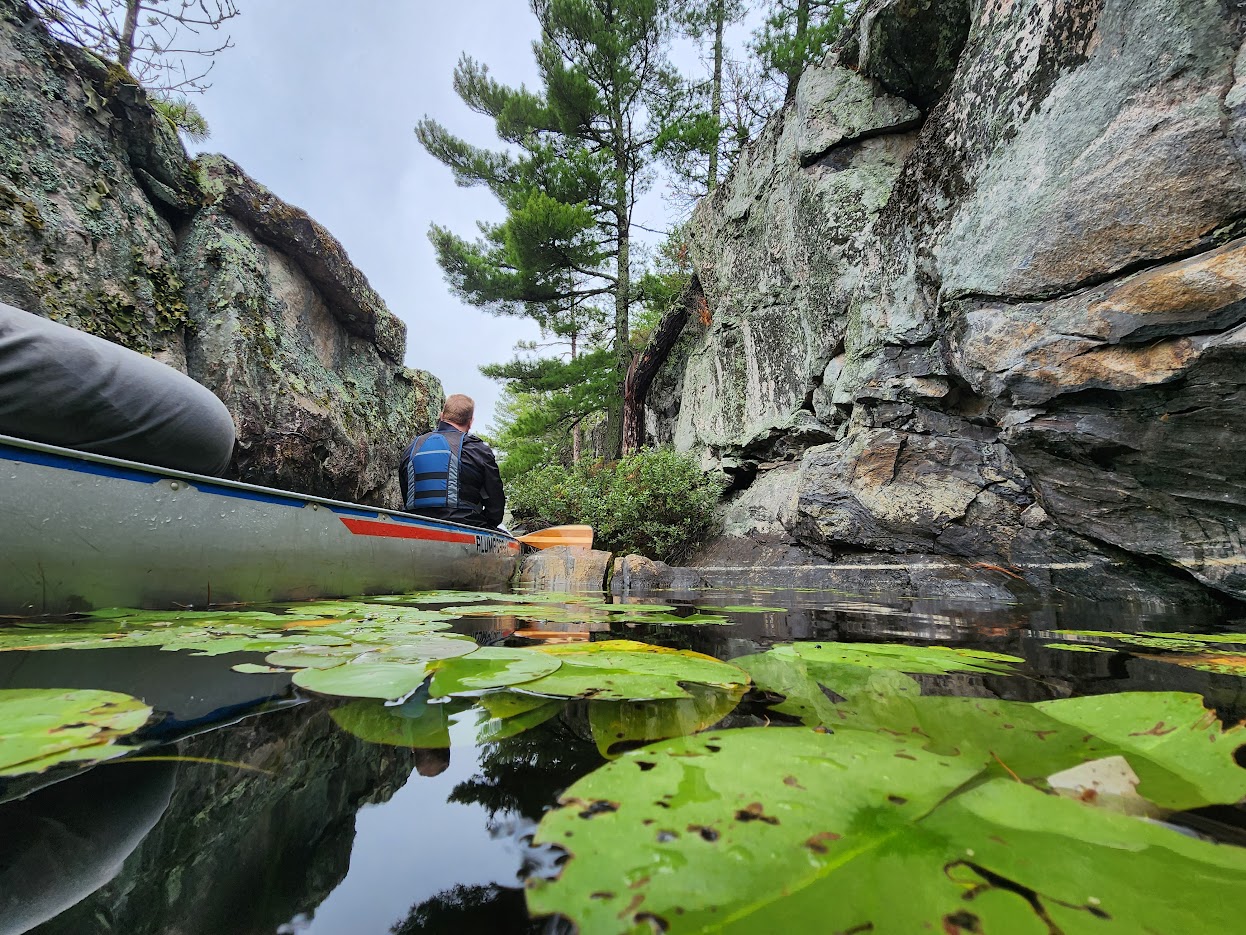 We never saw any large woodland creatures, but at one point a very large alligator snapping turtle came swimming up from the deep chasing my spinner bait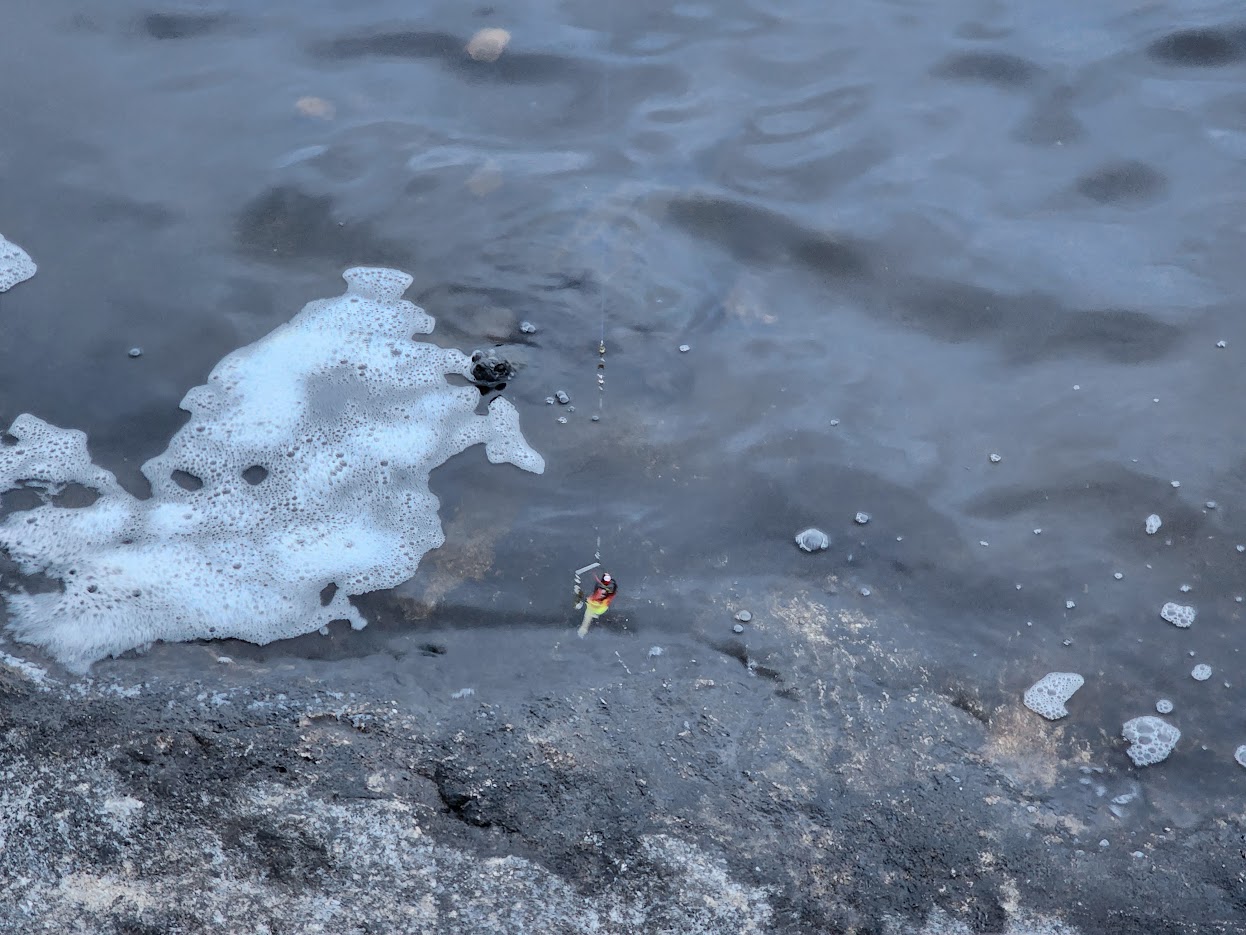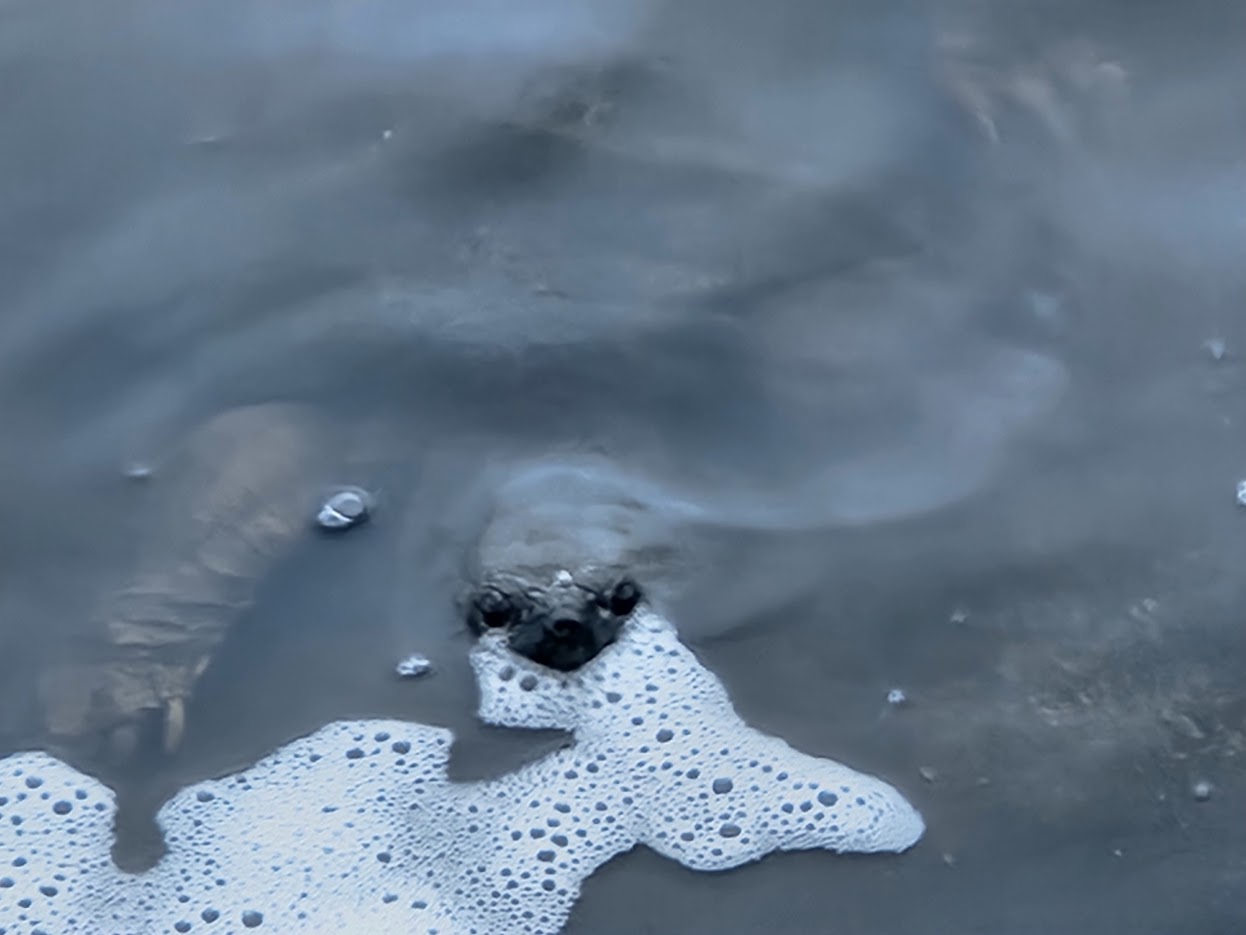 The trip wrapped up and we broke camp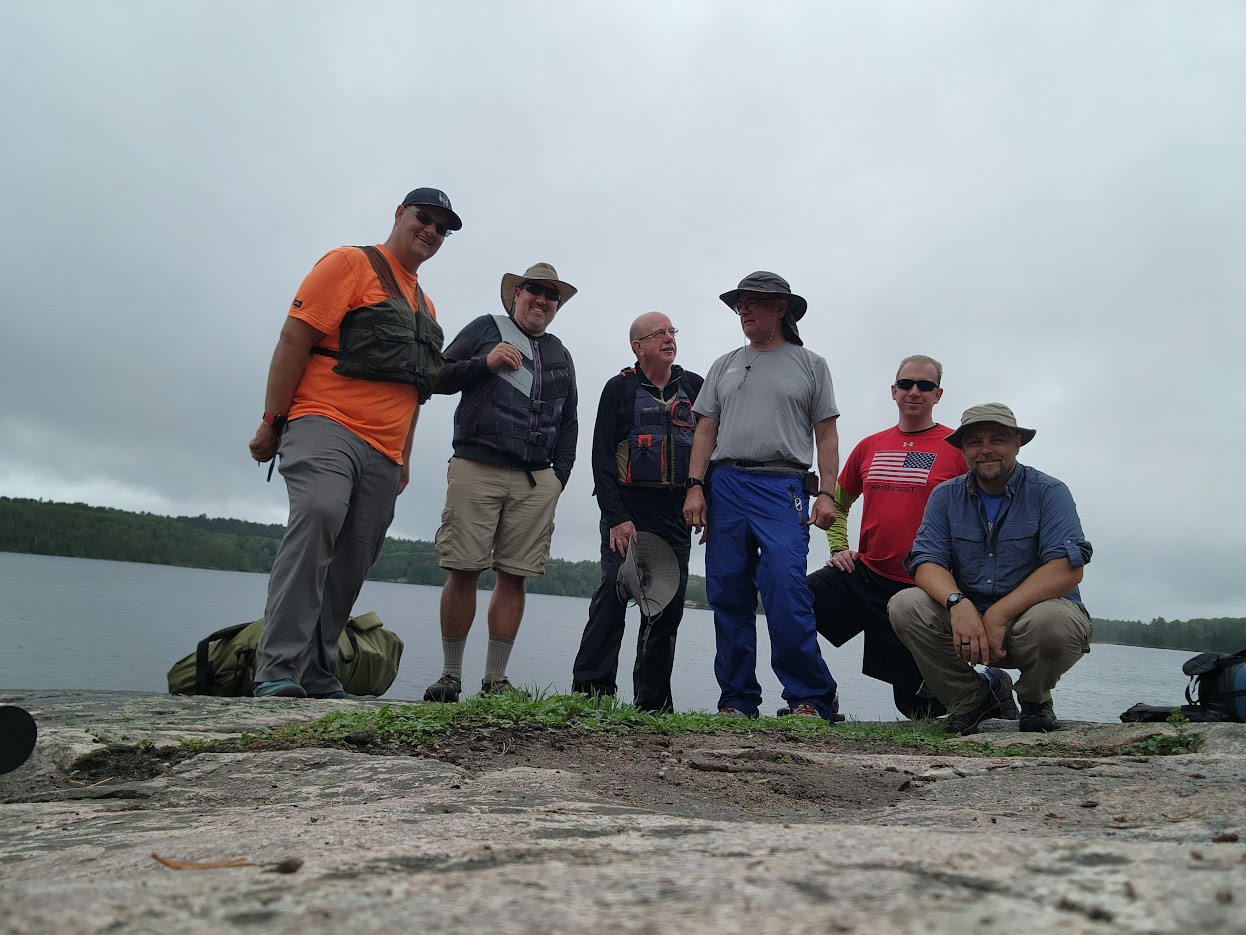 Made it a few long portages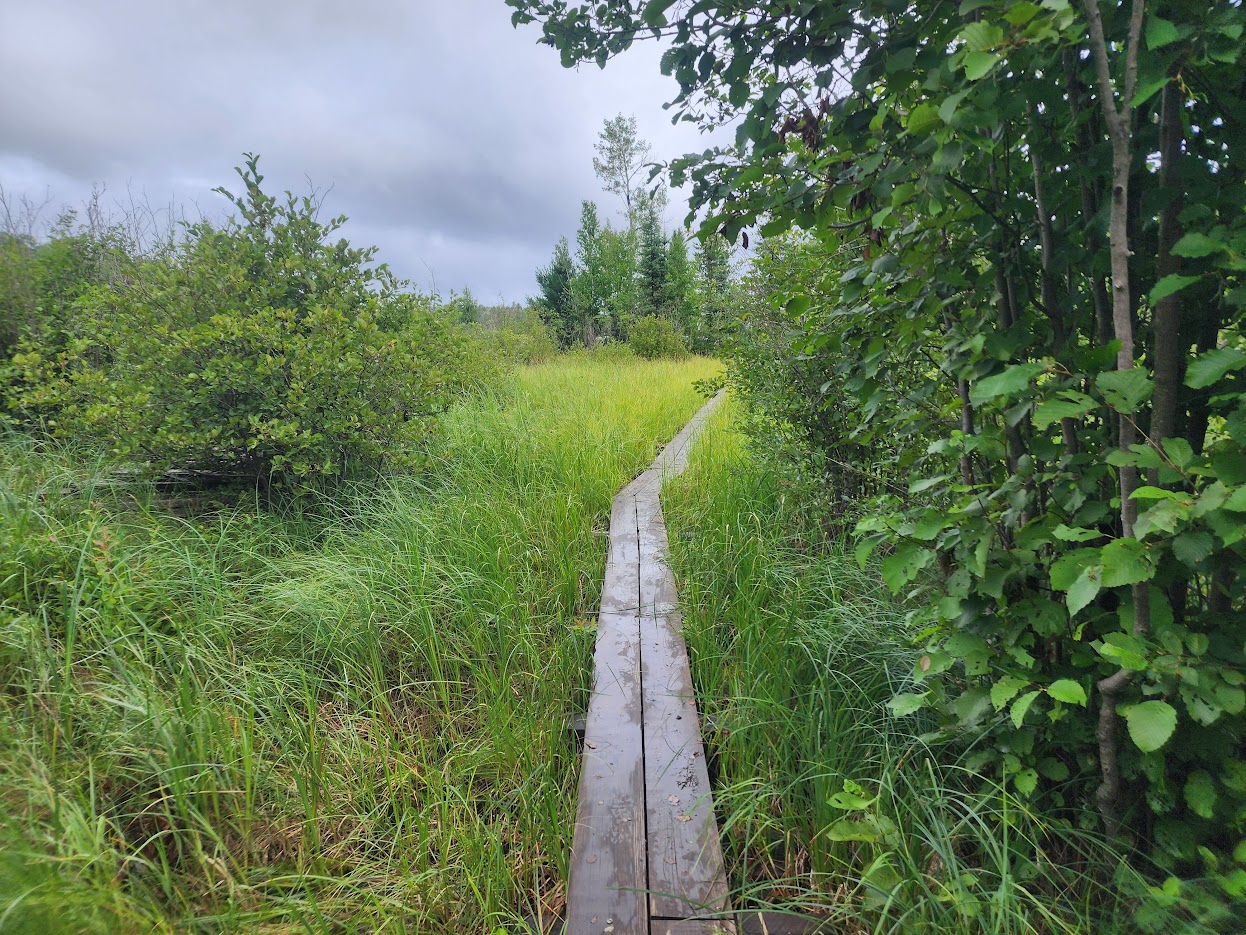 in a whole lot of mud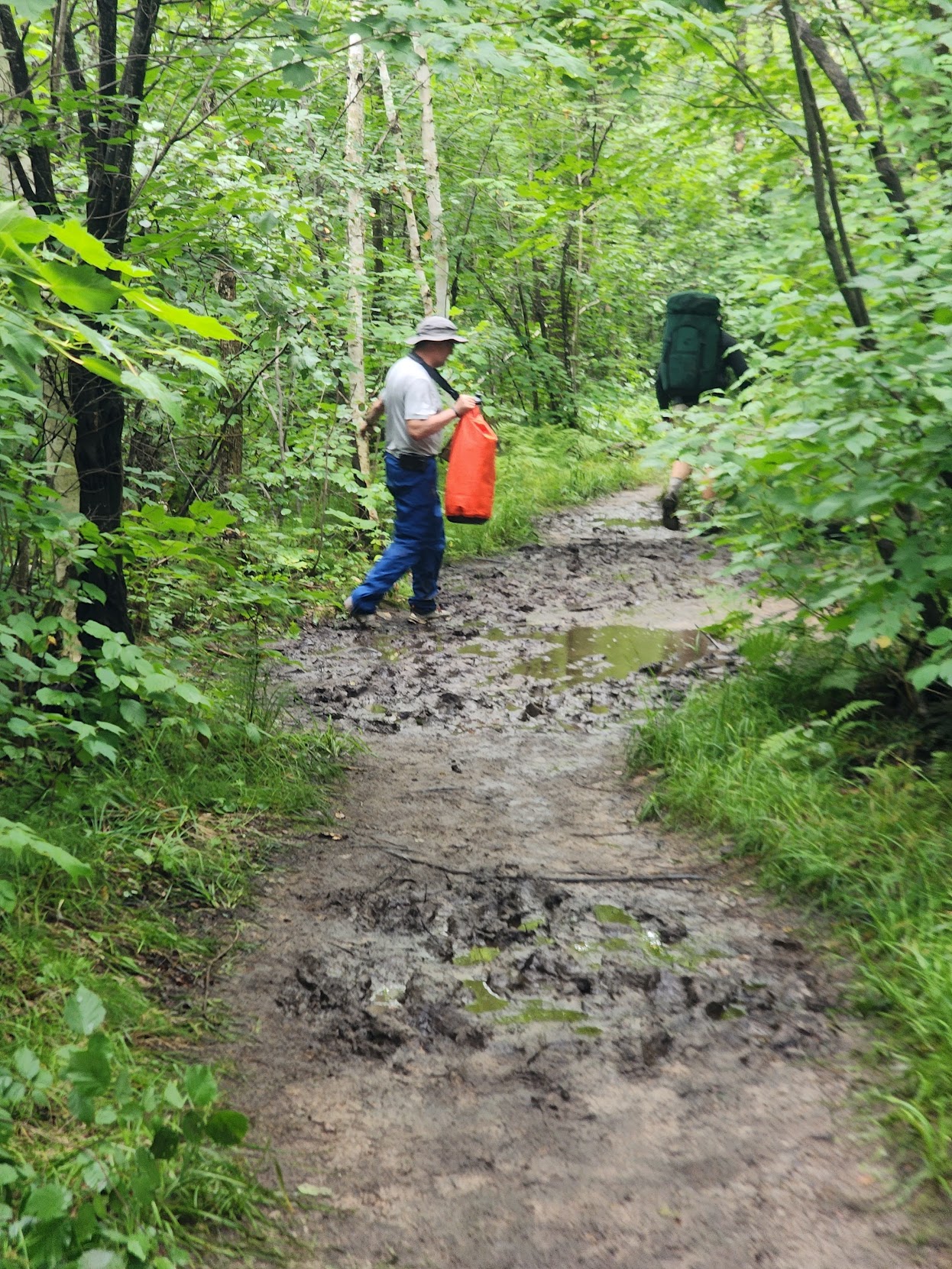 And once back to the land of the living and showered, did what all real warm blooded 'mericans do, ordered a bunch of cheeseburgers and played with our phones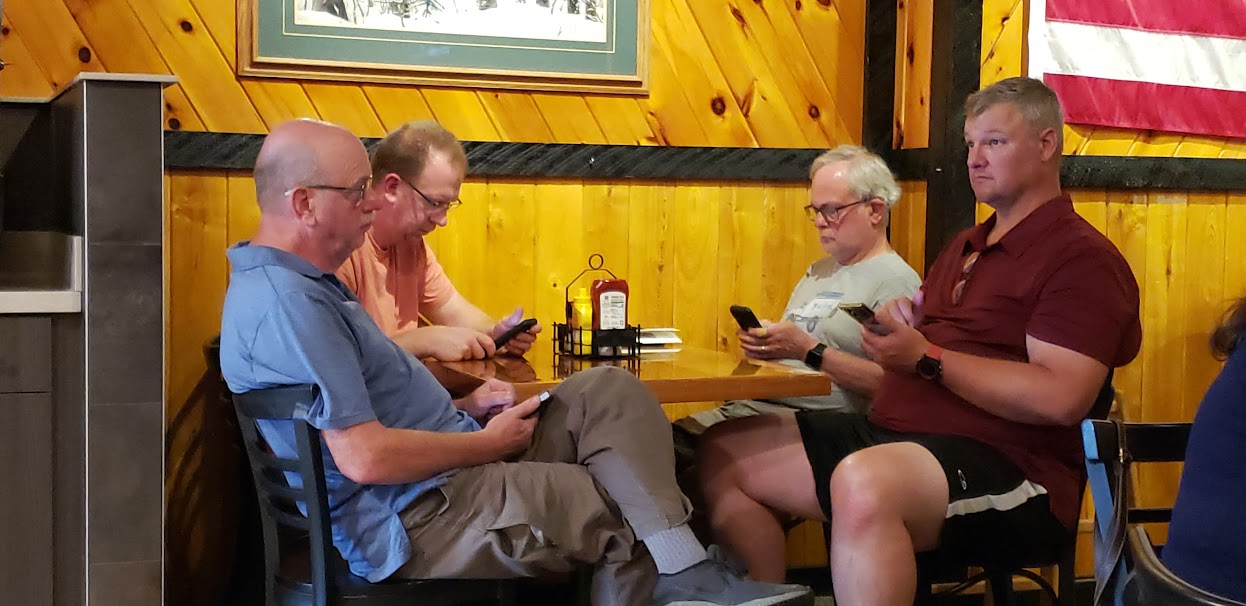 Trip 2
Back for a couple days, I packed and turned right back around to the same town up north (Ely, MN) to yet again, venture out on a BWCA trip. This time with my family.
This too came via Canadian Waters who outfitted the trip so they had the canoes, food, and gear.
This was gifted and run by my sister-in-law Marit and brother-in-law Nick. They brought their two dogs, Echo and ND, ND being a high-energy 5mo old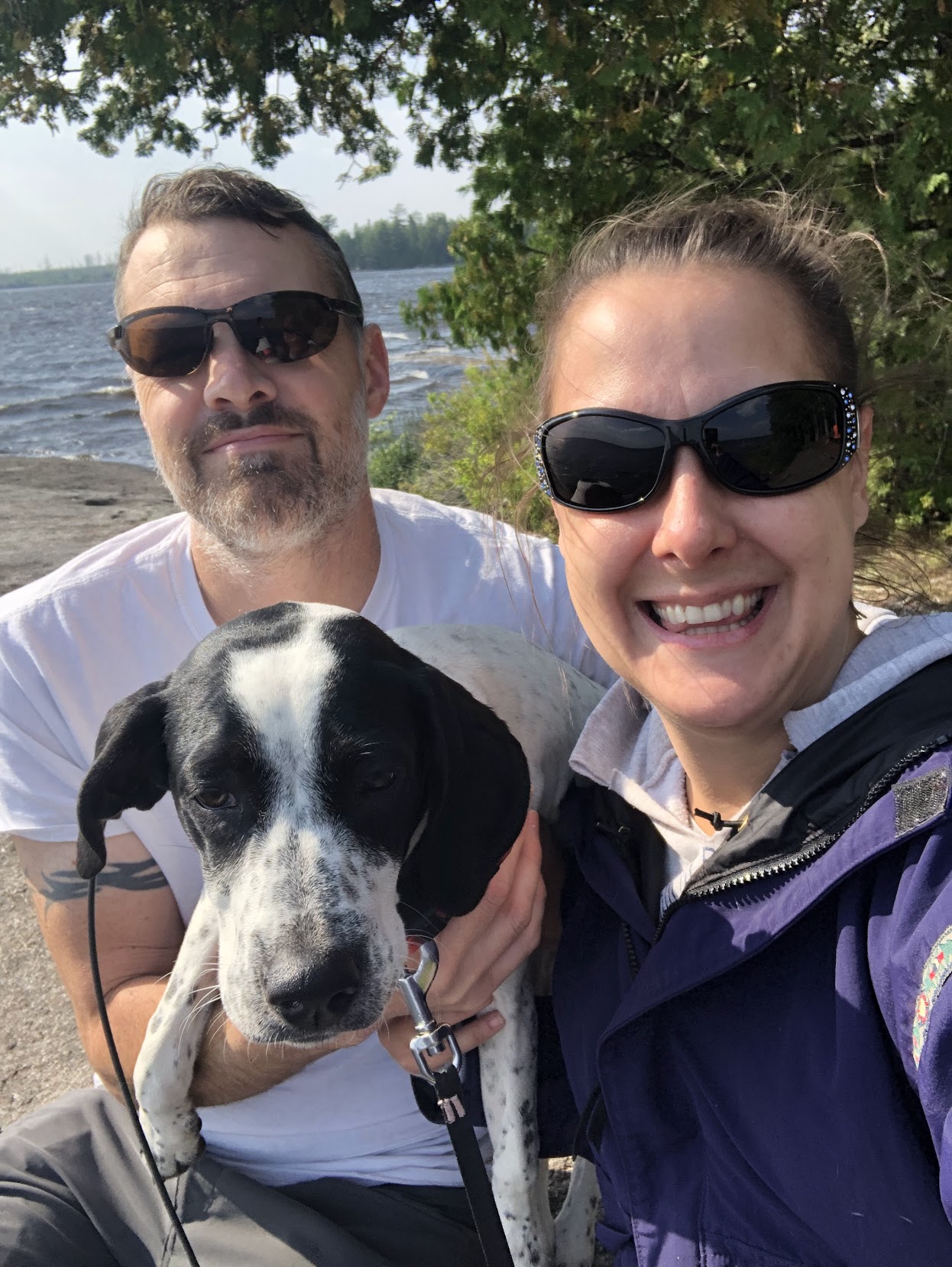 It is a bigger lake, Lake Isabella and the winds were up when we left. My b-i-l and s-i-l with two dogs and a kid in a 4 person 22 foot canoe and my wife and I with the other kid and gear in a 3 person 17ft one.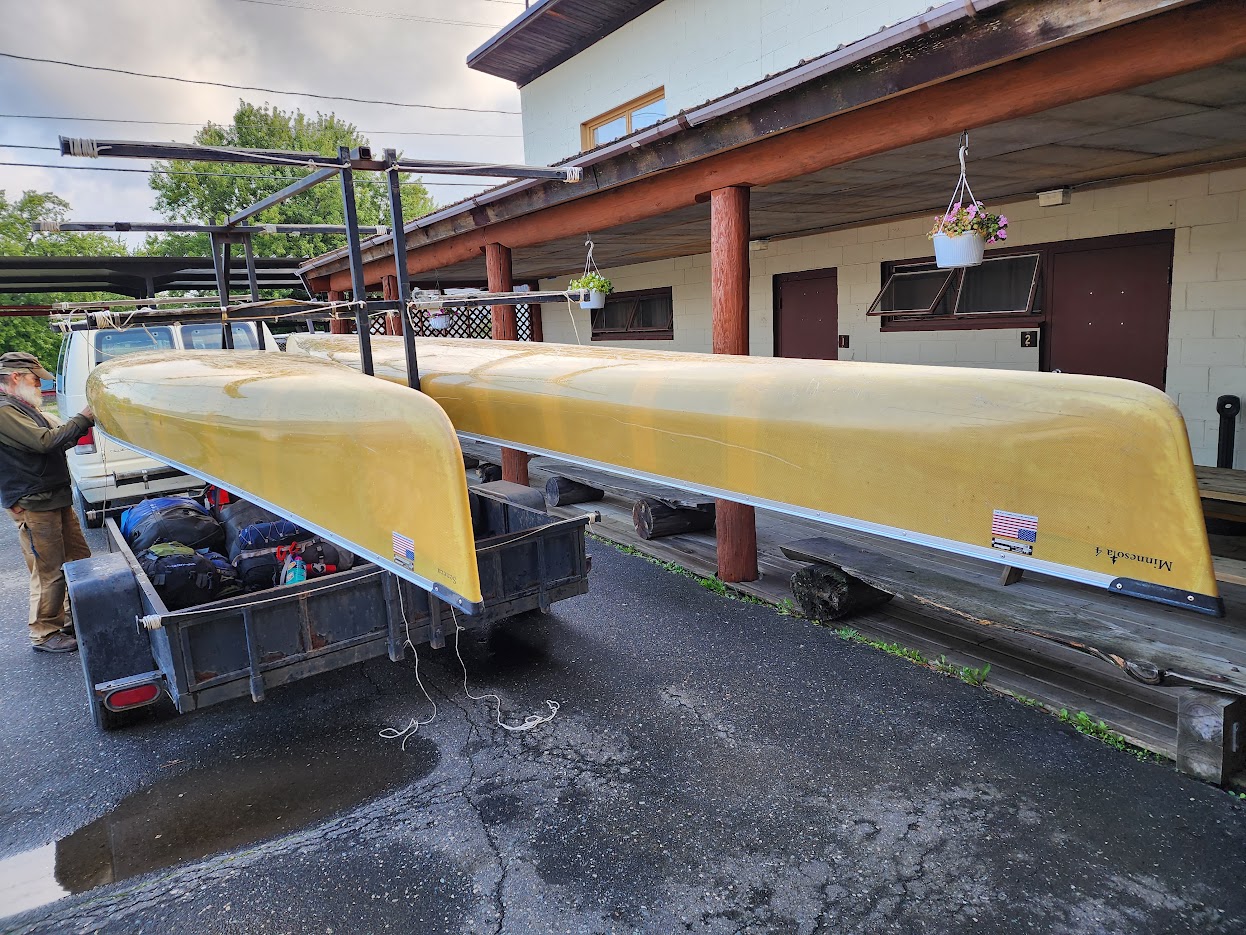 We did make it to a landing, eventually. Though we were all a bit grouchy and tired.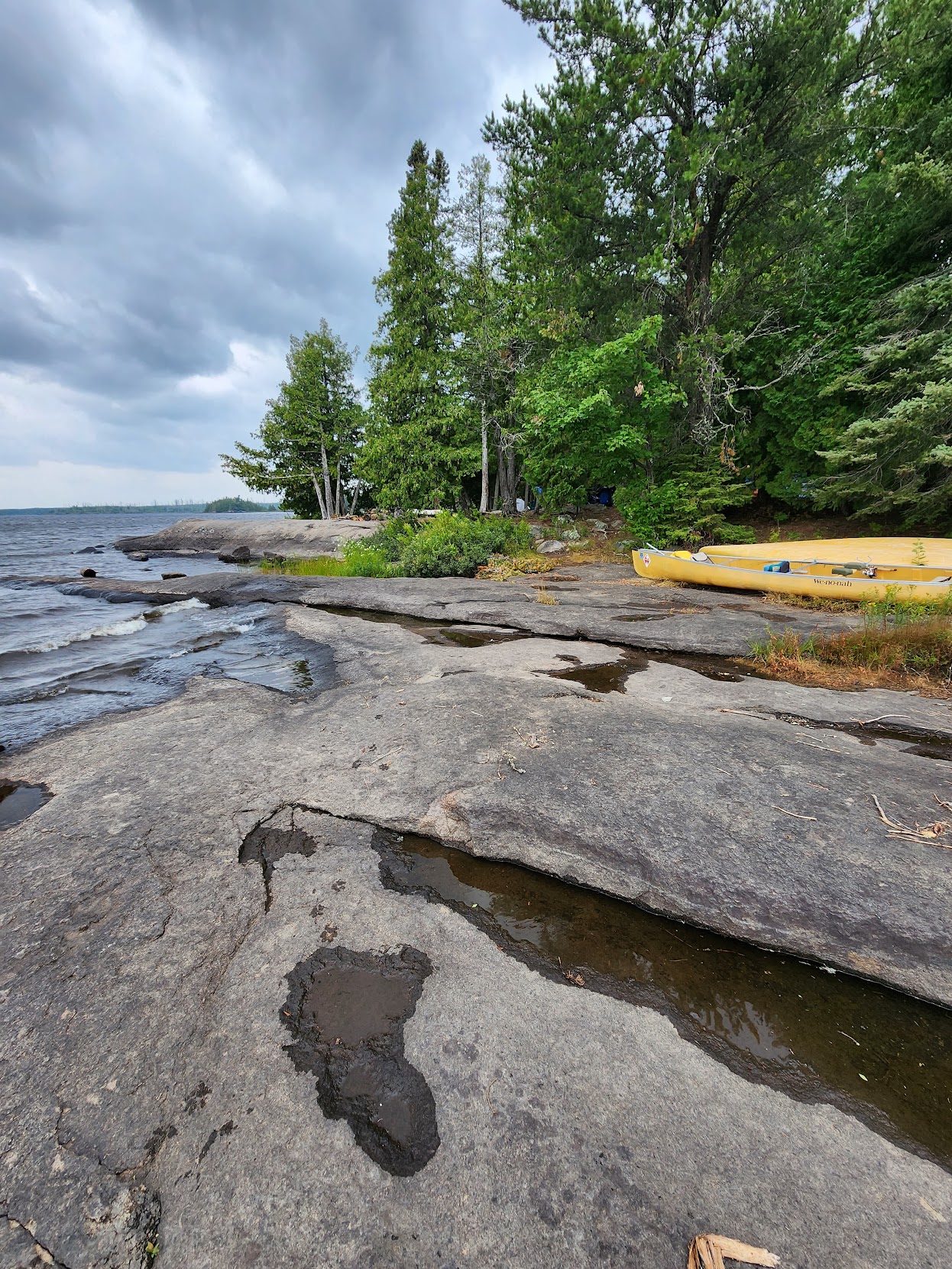 I did some shore fishing and the dogs would often hang out with my daughters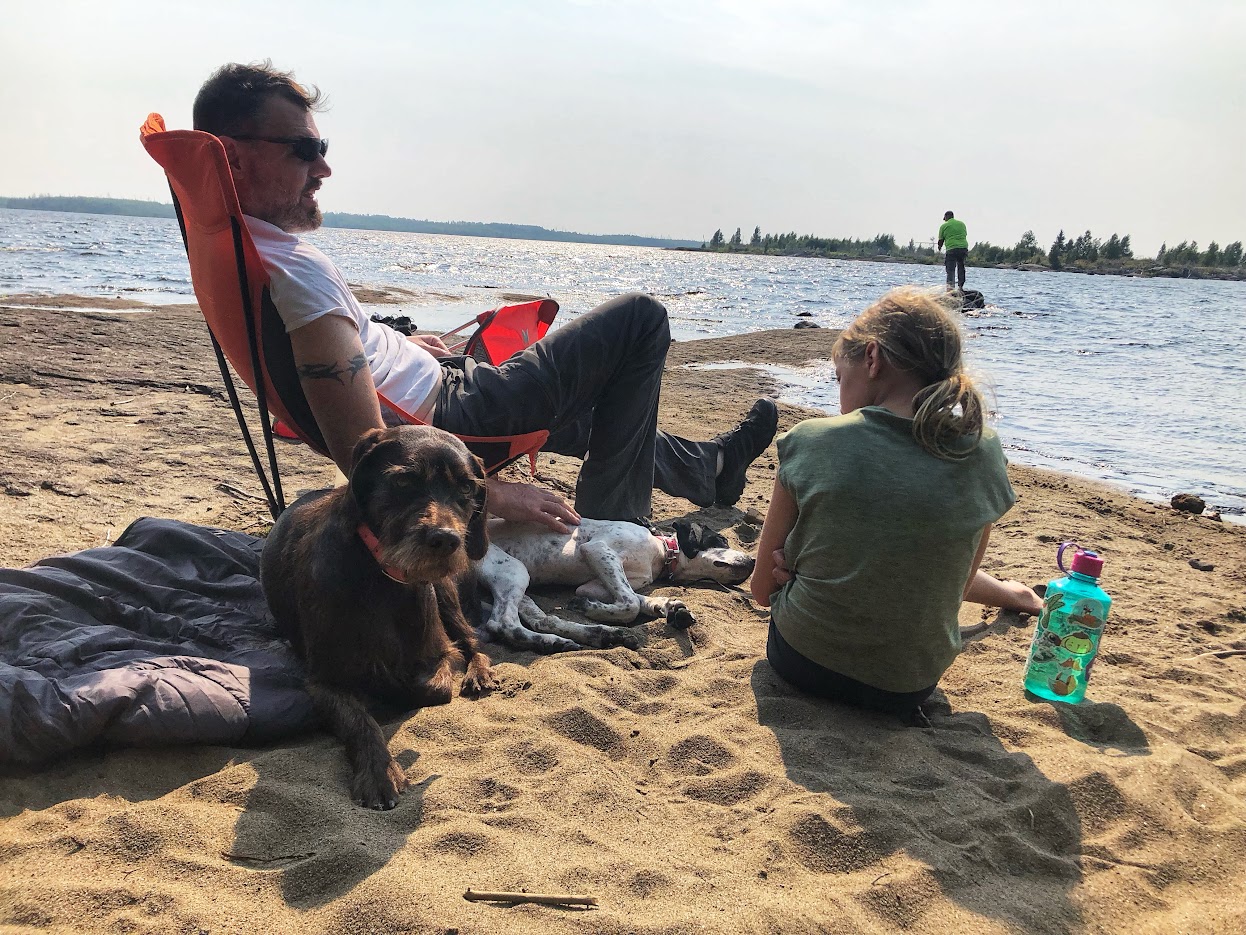 One of the days, my middle daughter Luca got on the fish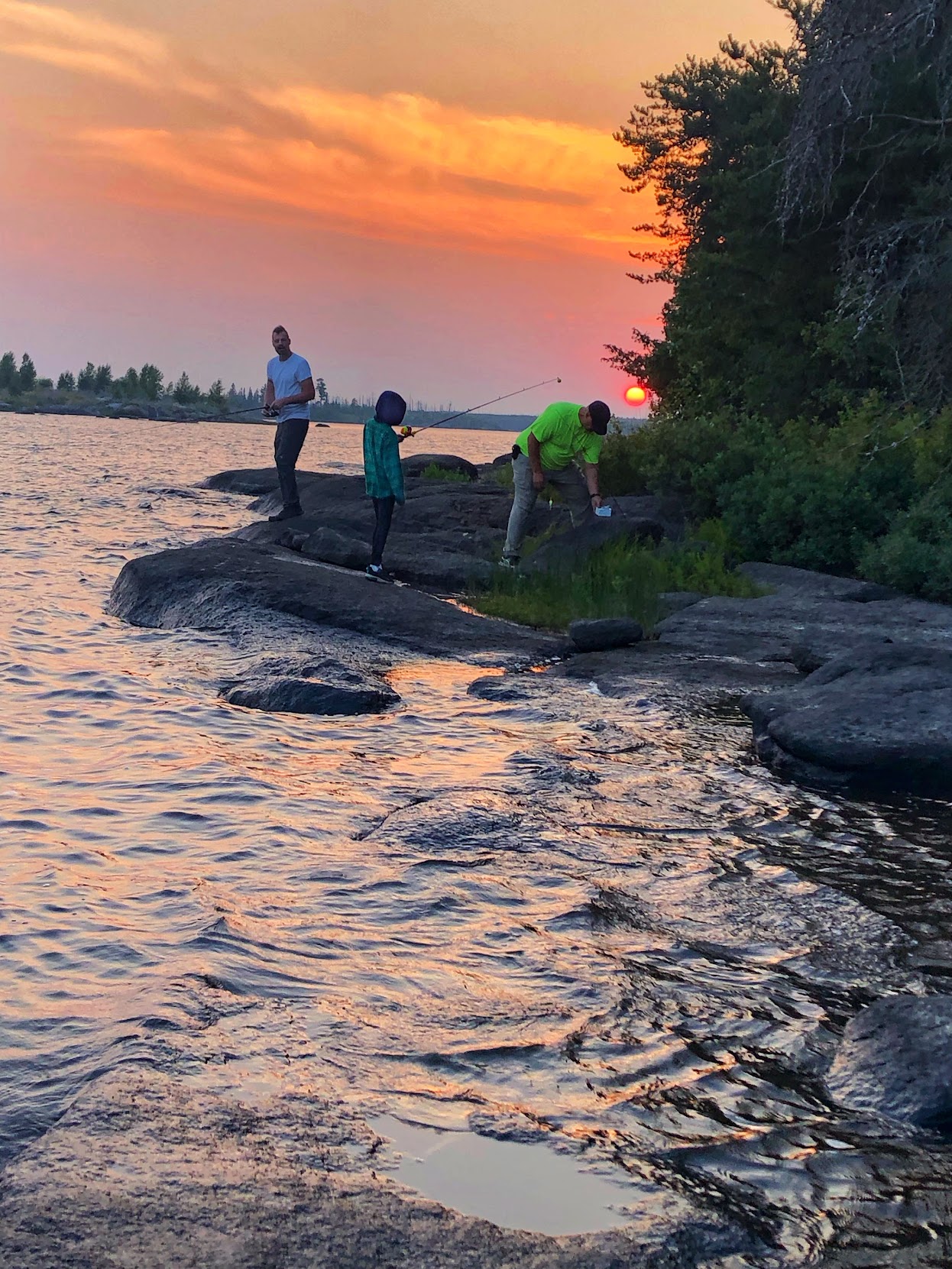 She was racking them up, one after the other. Uncle Nick was jumping in to help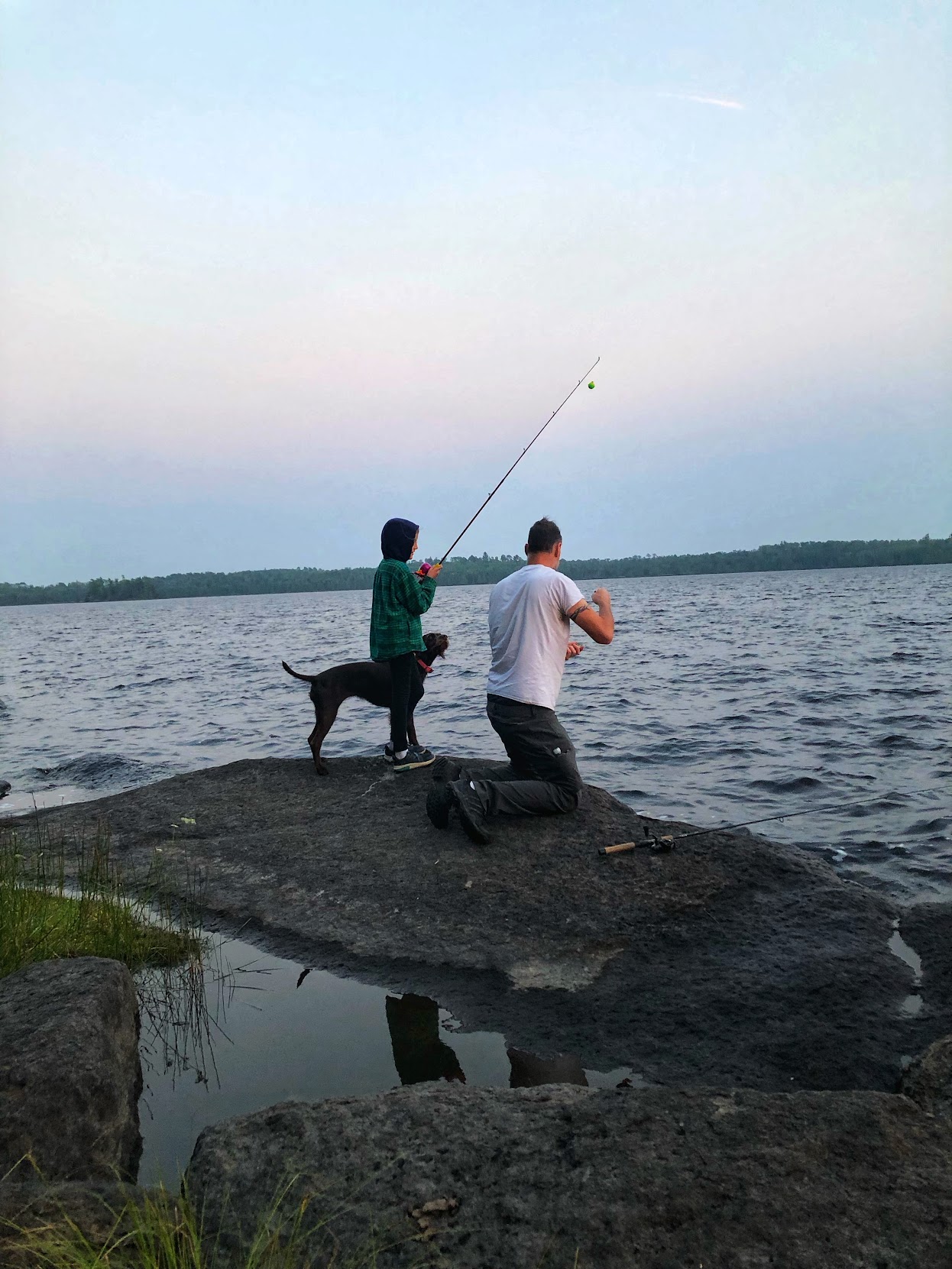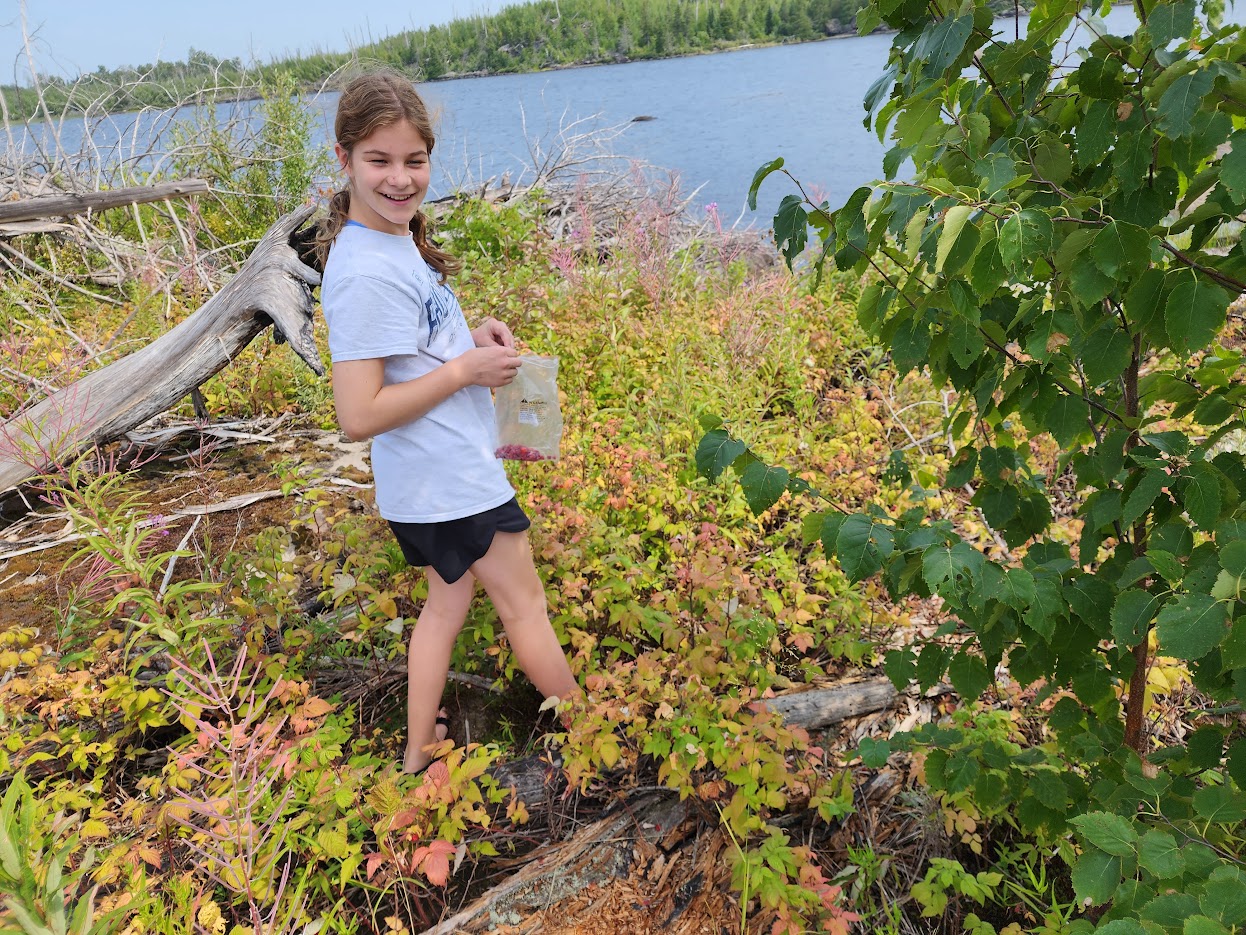 My eldest did a Solo swim to the neighboring island. When the wind was down, we paddled over and got our fill of wild raspberries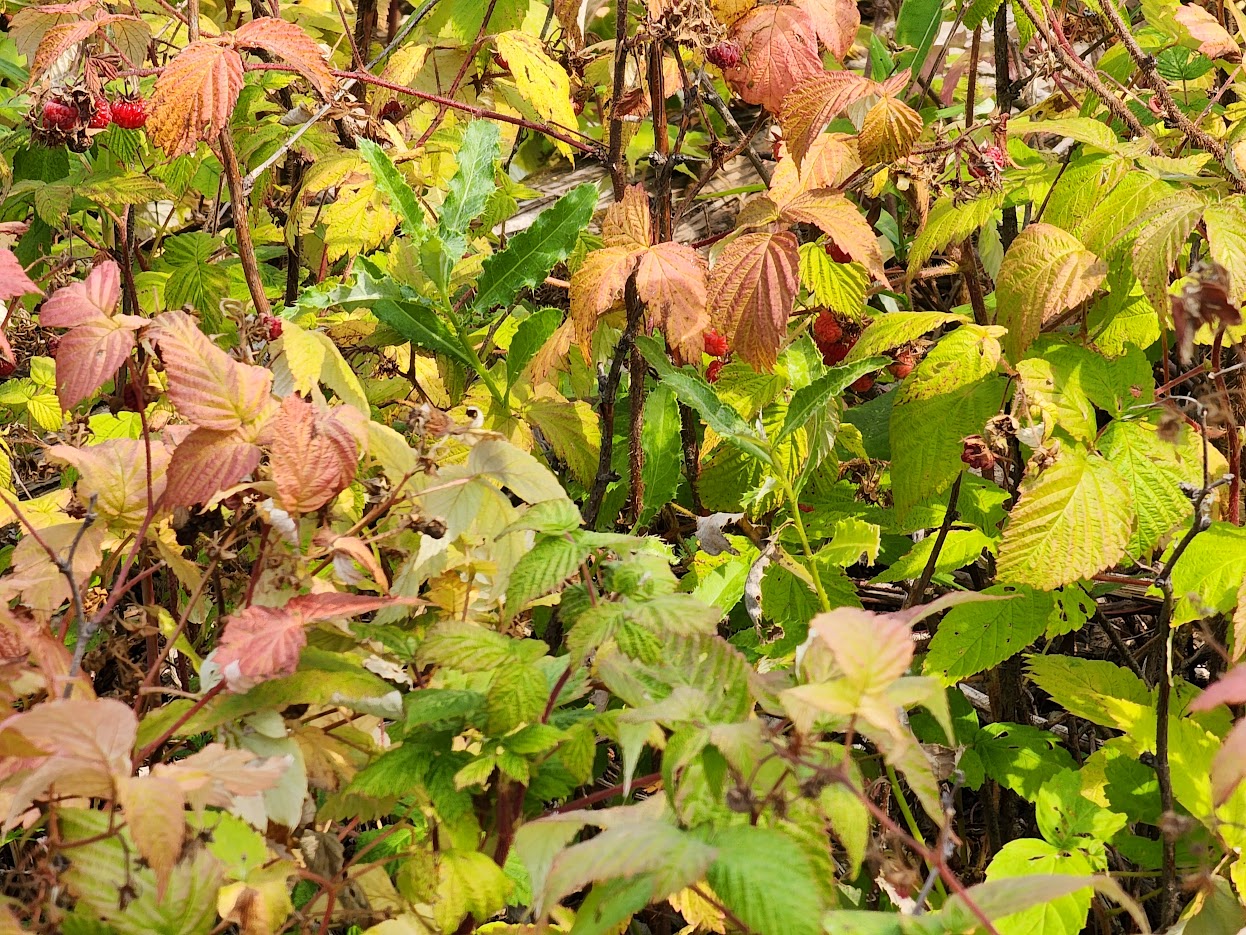 In the evenings, the girls practiced Loon calls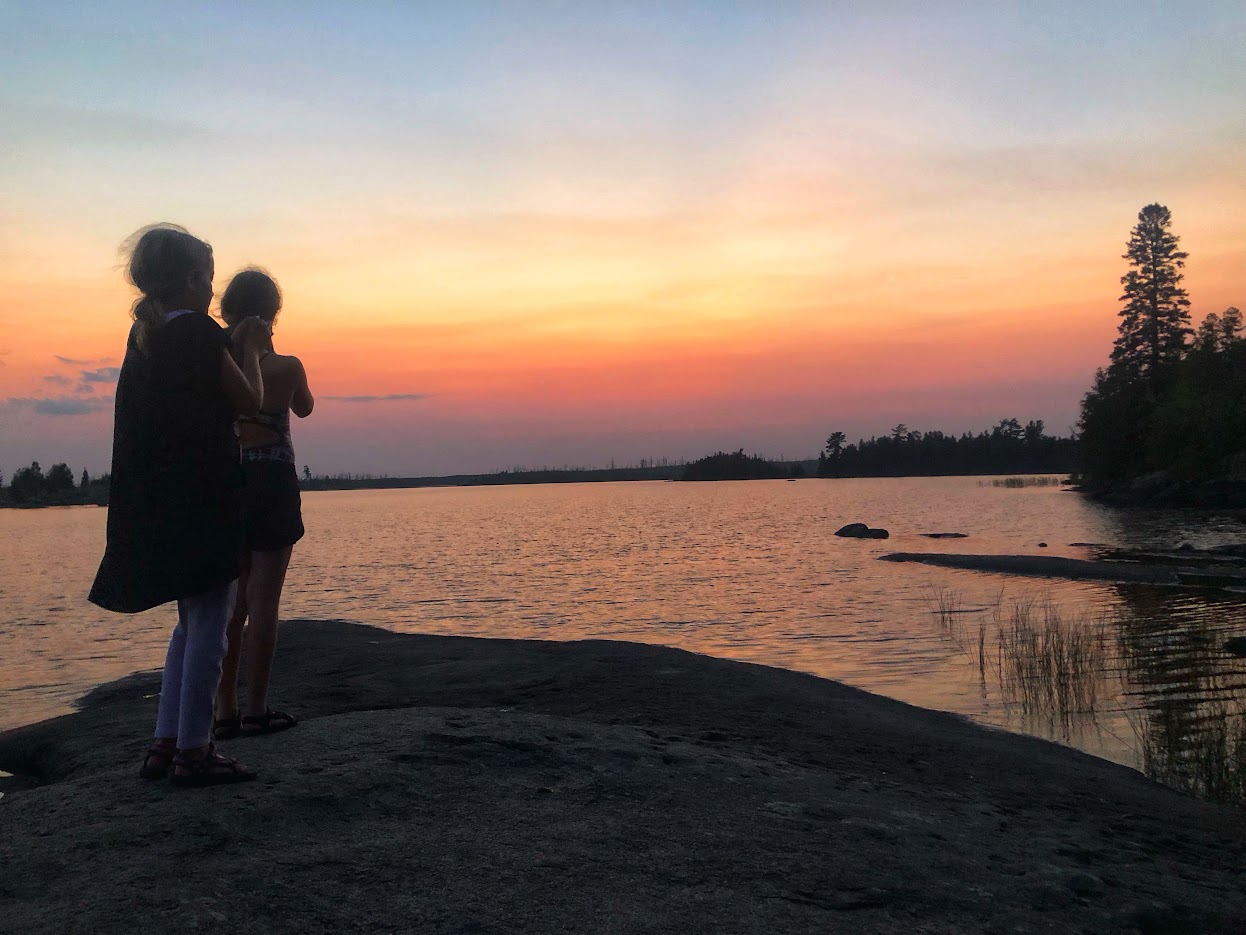 We would see a family of Merganser ducks go by in the mornings and evenings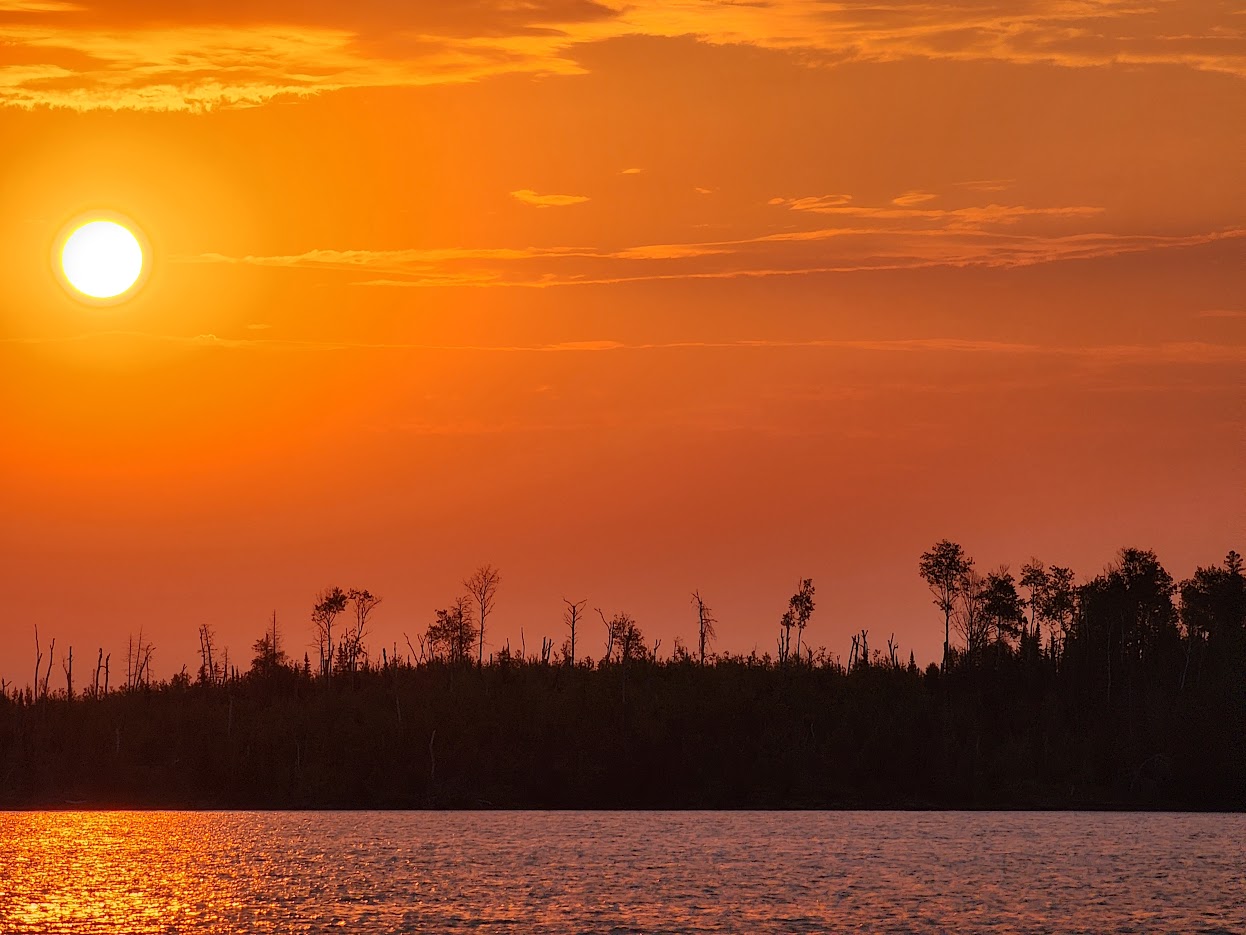 Ducks in the evening:
It was a great trip and extra special to have my wife Anna with me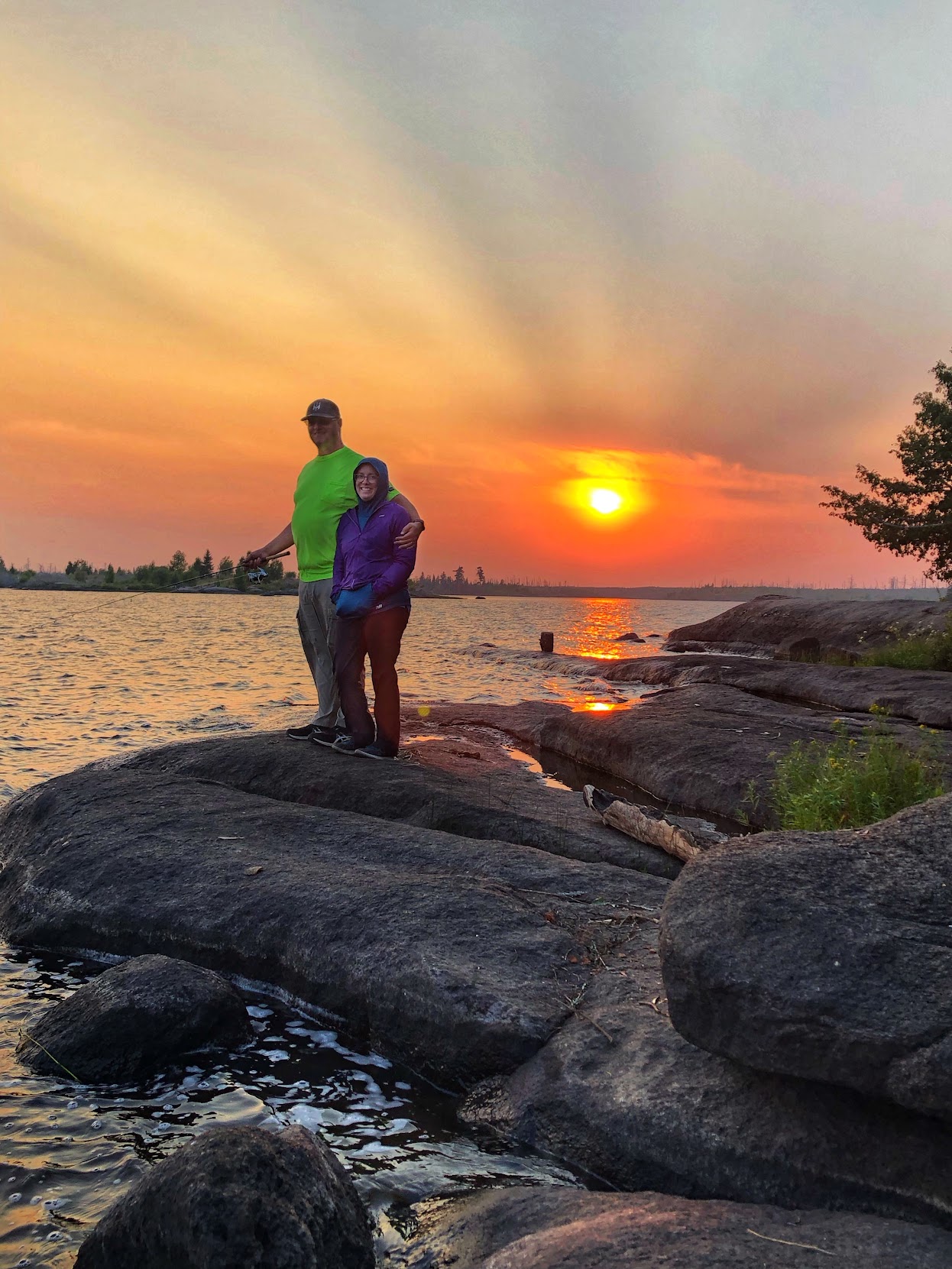 Enjoying the red sunsets due to BC fires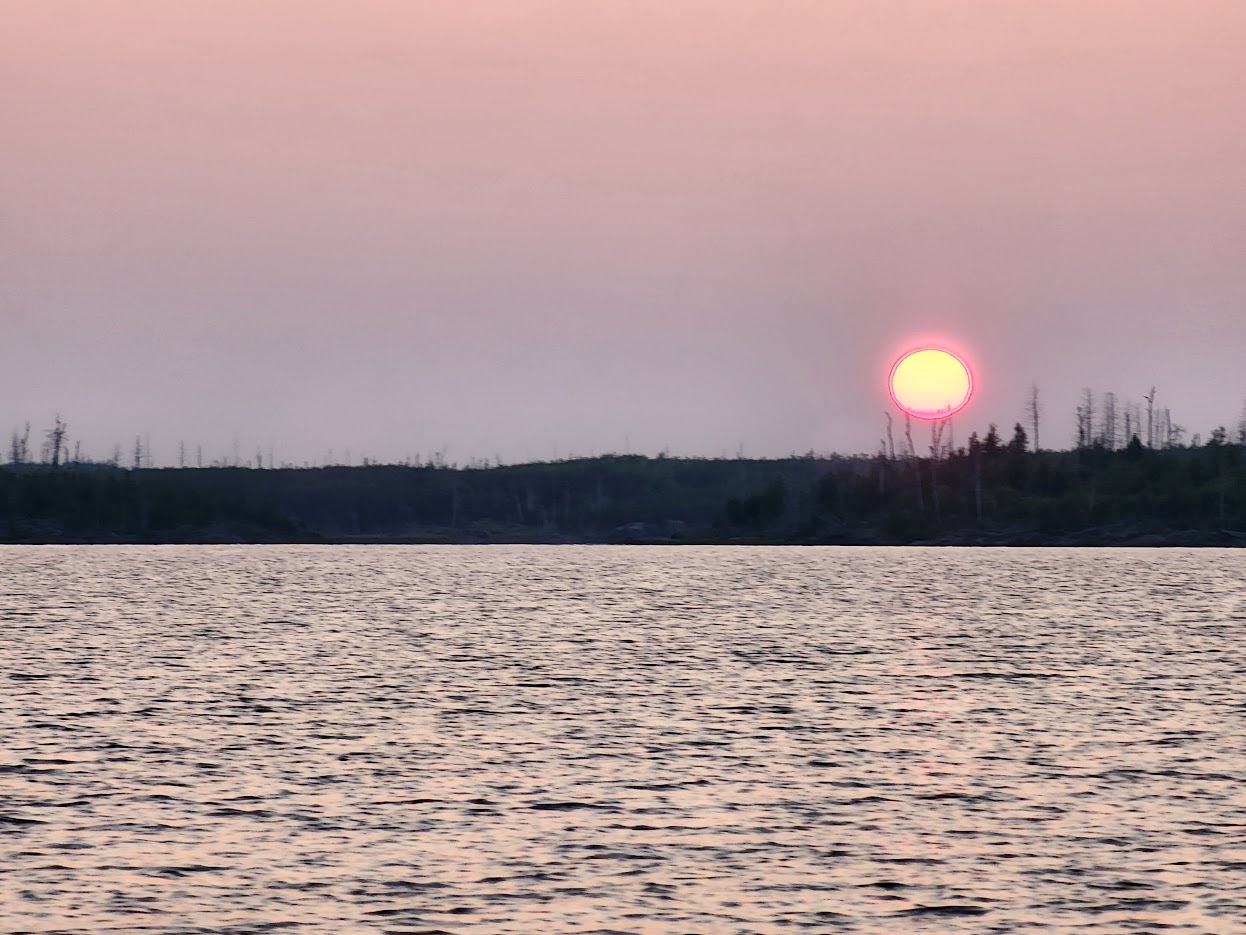 Lastly, me with my family (minus my youngest who was with her Oma and Opa)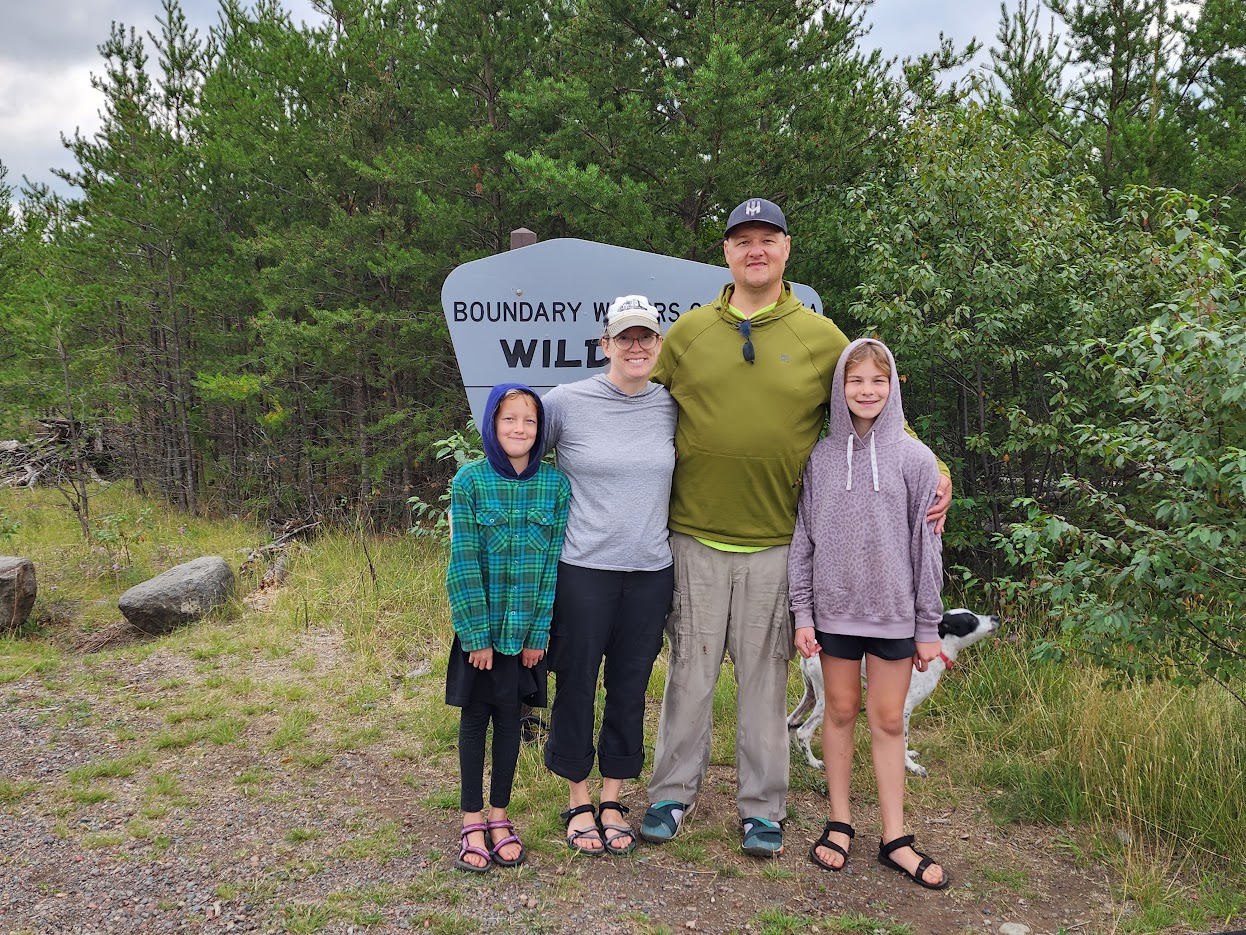 Off to KC / DevDays 2023
I was barely back a day and half before I was catching a flight to my companies WHQ to present a 2 hour workshop and 15 minute lightening talk. I actually worked out the lightening talk, more or less, on paper while in the BWCA on that second trip.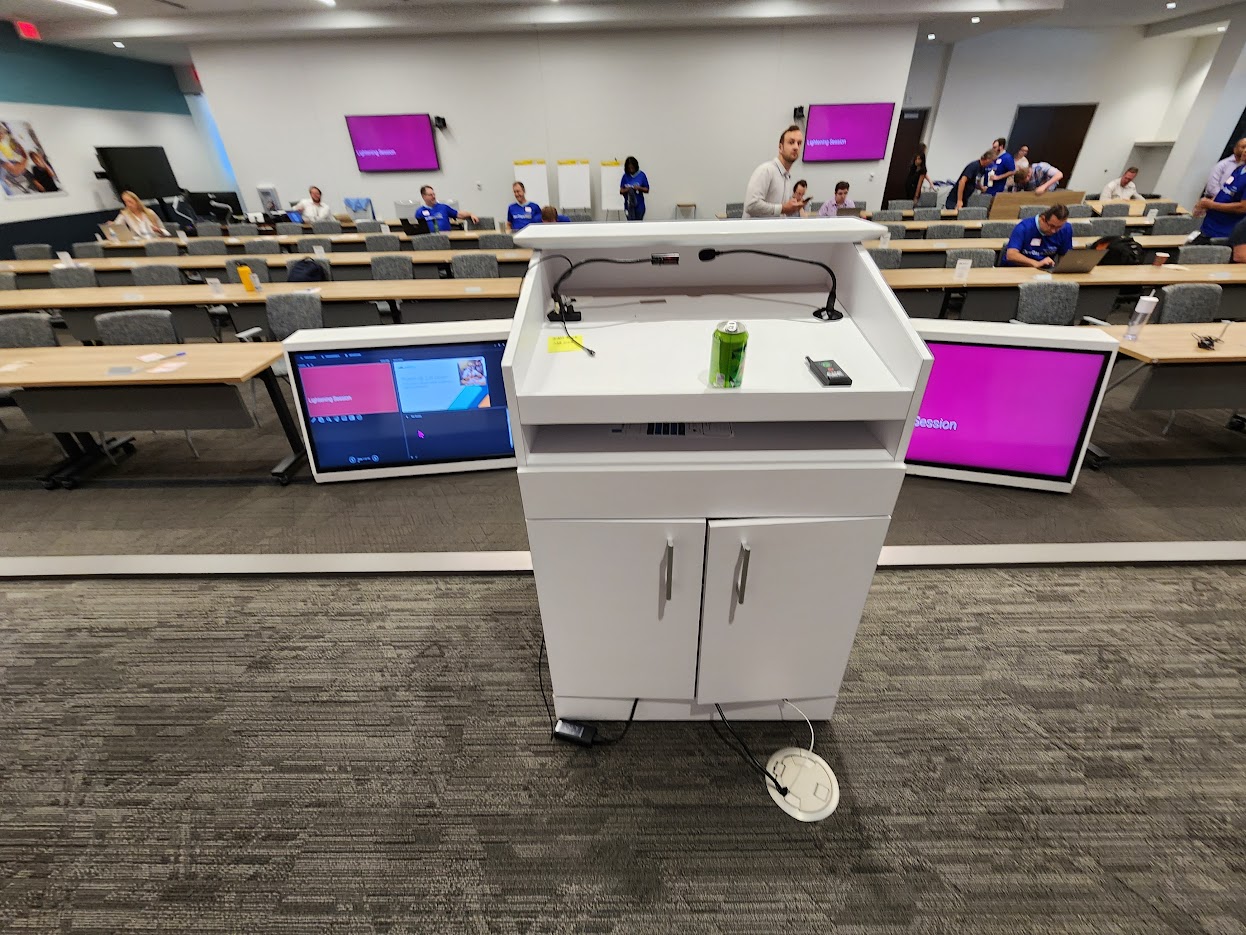 Many of the local developers took part in DevDays and they flew a subset of us remotes, about 20 in all down to Overland Park to present and learn. It felt very much like an internal conference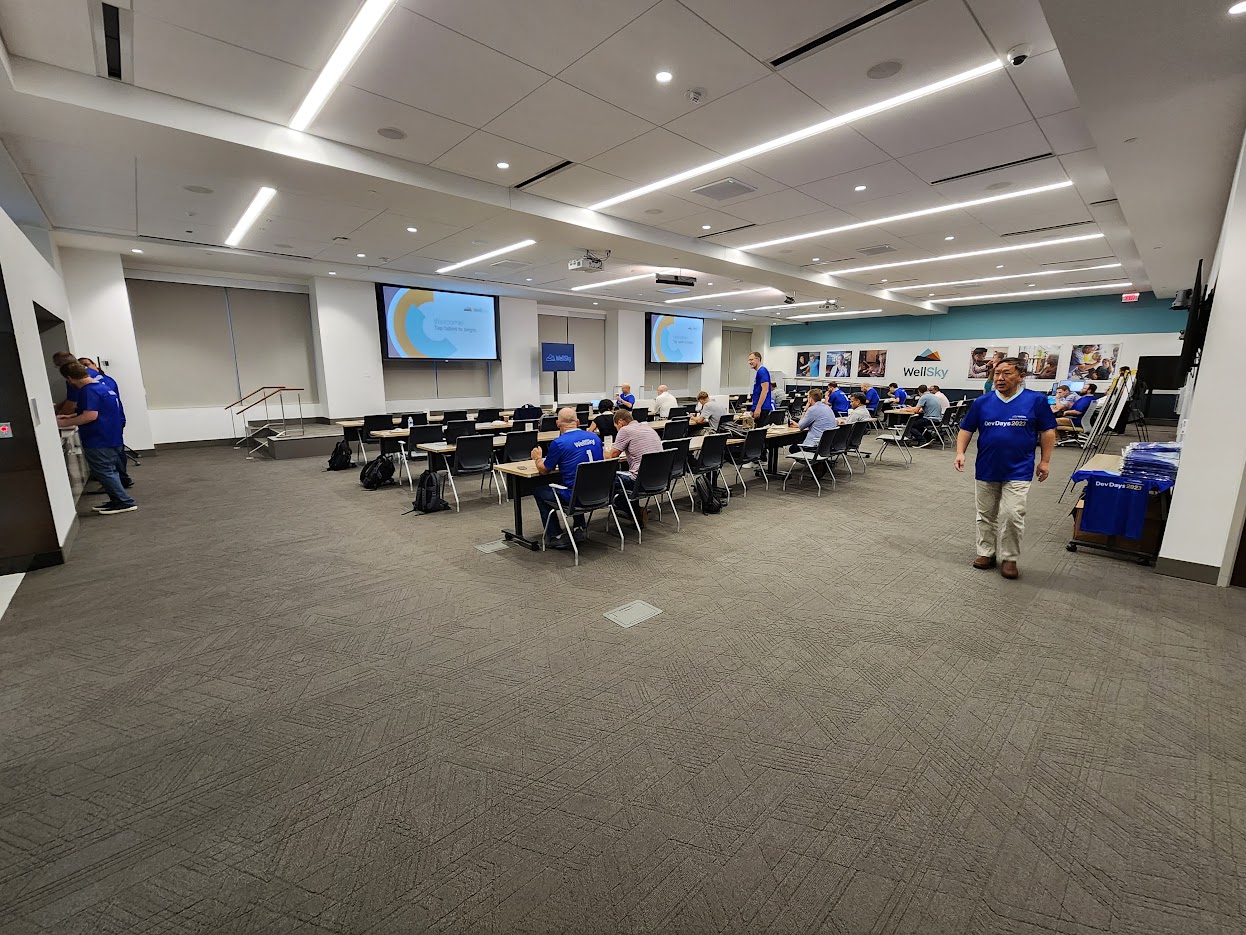 We had a lot of remotes on the calls as well (I didn't get permission so I'm blurring faces)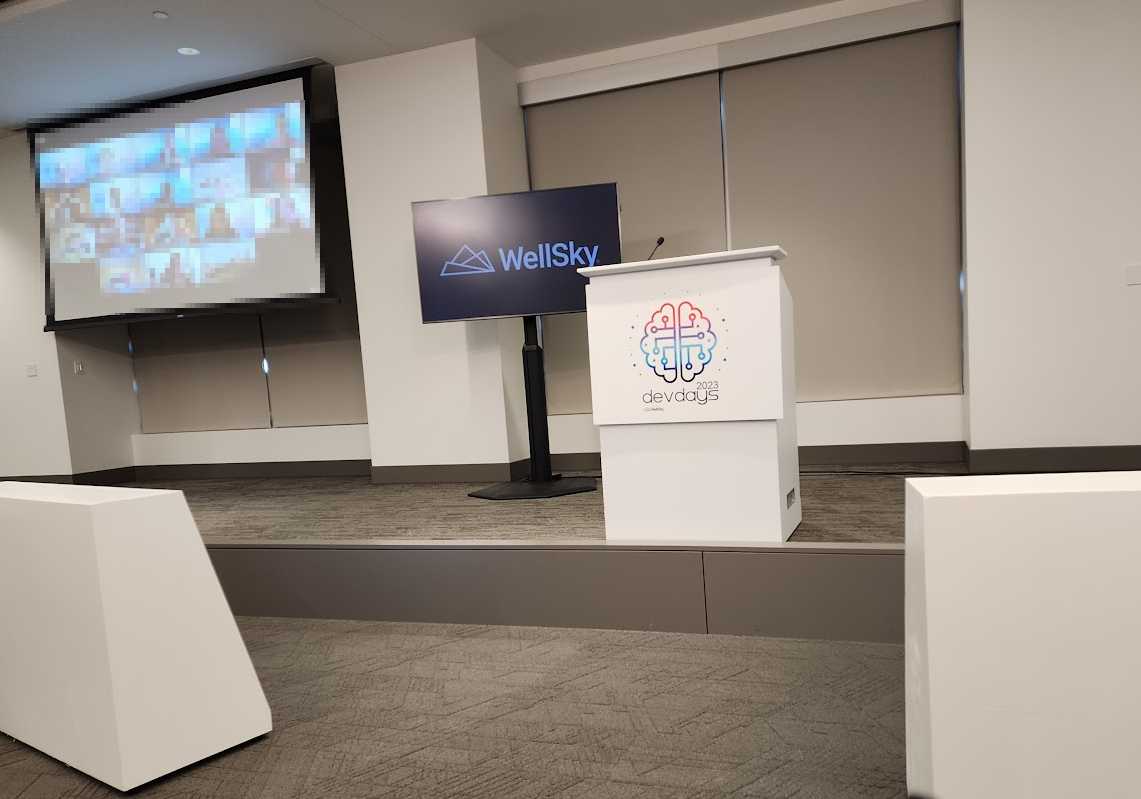 I ate some really amazing food including Q39 and Jack Stack BBQ (I really liked Jack Stack)
I flew back, landed and drove to the AUDL finals
Where I saw Empire defeat the Austin Sol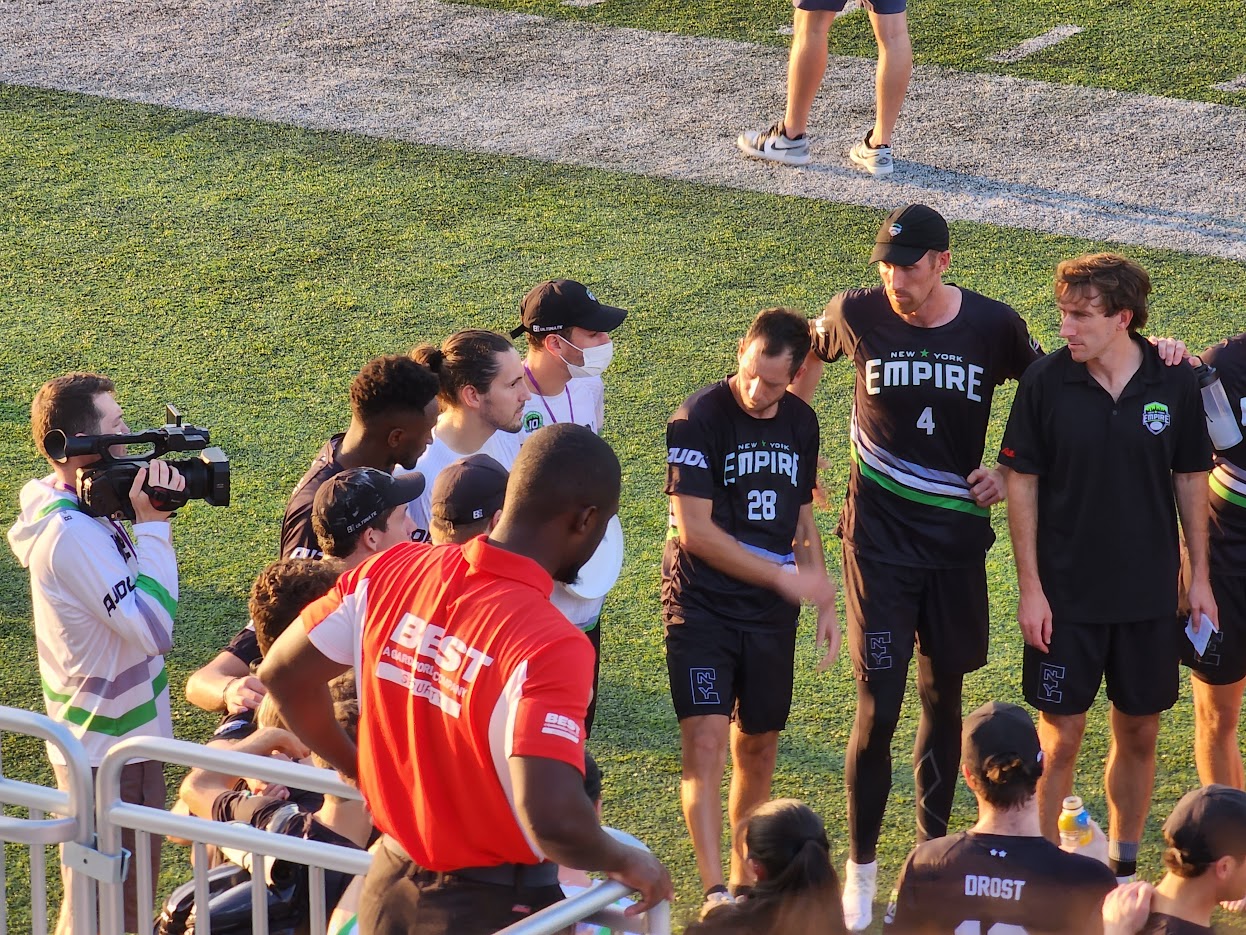 It was at the TCO Stadium where the Vikings practice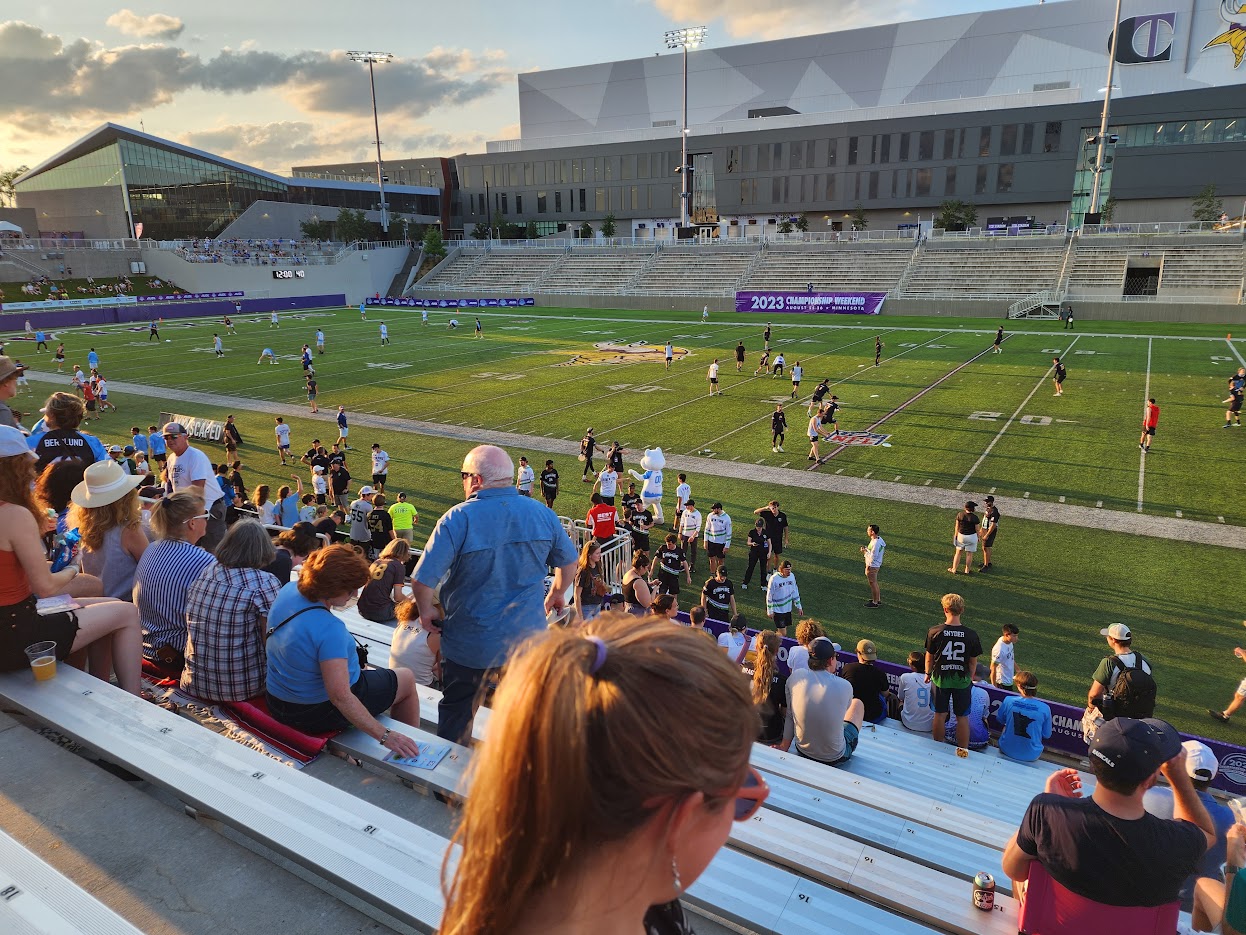 The kids did the youth clinic Saturday morning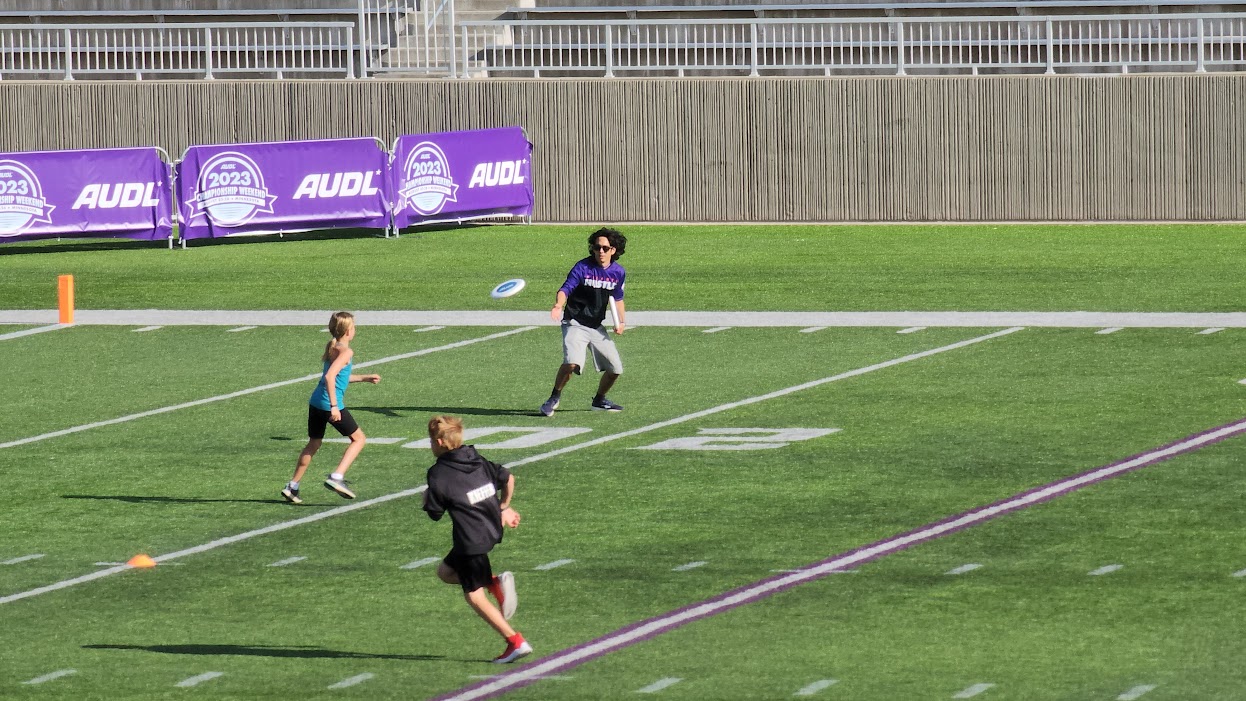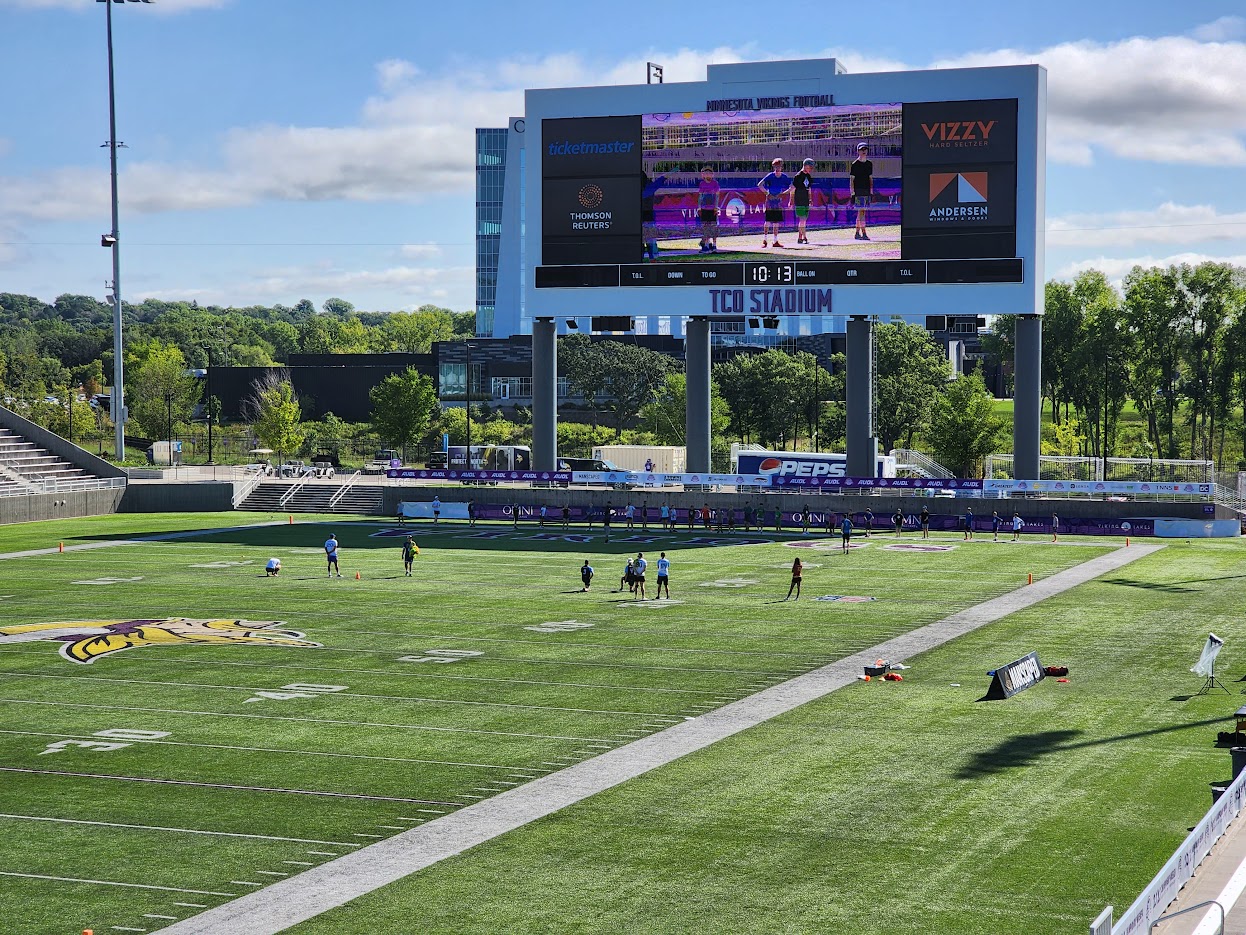 Birthday / Summer Party
Only to come back to a massive water slide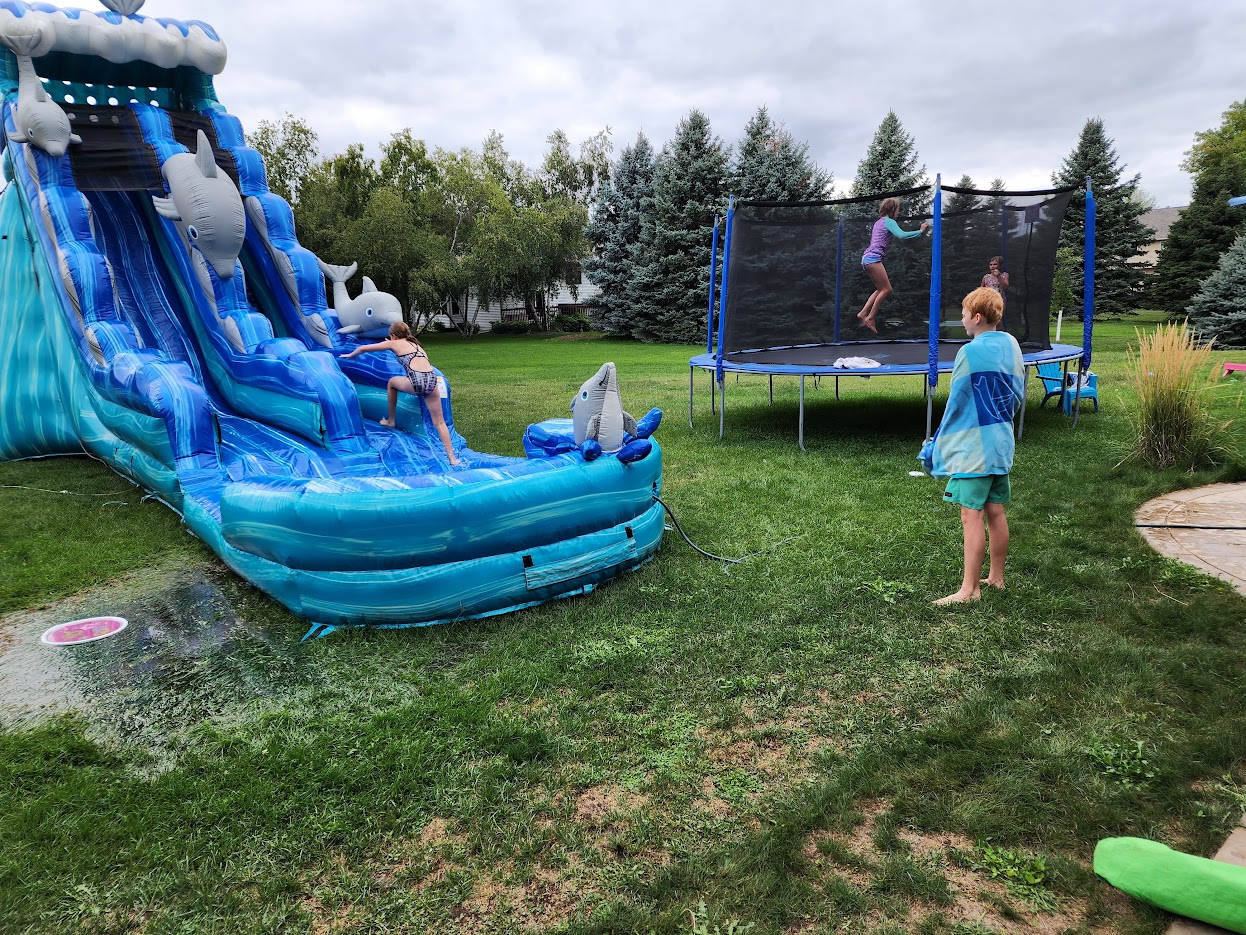 BBQ cookout and fire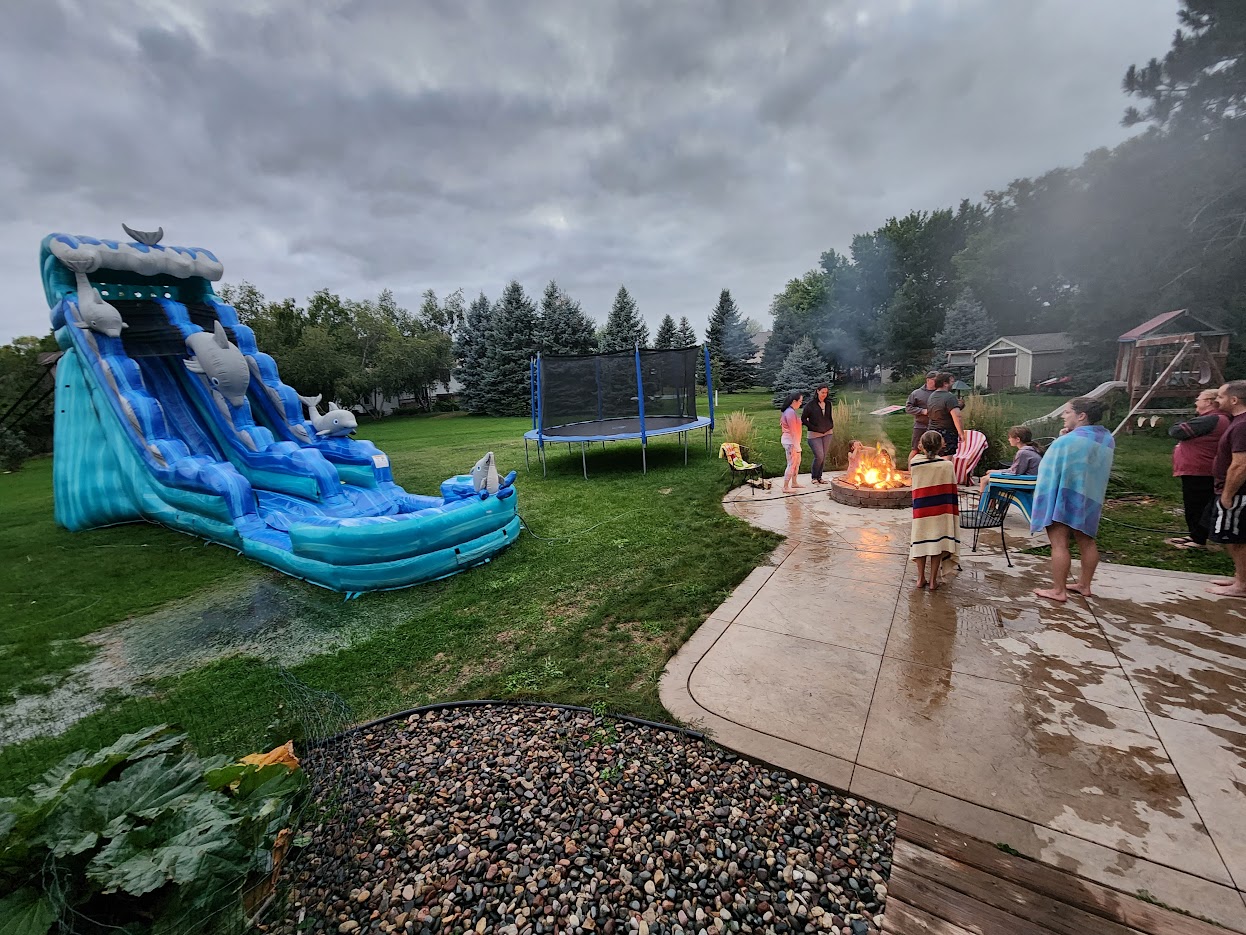 I'll only embarrass myself with a quick vid
Summary
So now it is Sunday. I did another family picnic as it's my parent's anniversary and they desired to get us together.
Clearly, I did not get all the posts down in the last few weeks because frankly I have just had a completely insane busy (relaxing, but also busy) August.
I felt I should at least share with you, dear audience, where I've been and why the posts have been down.
I have more posts coming. I do plan to post at least my lightning talk from DevDays 2023.